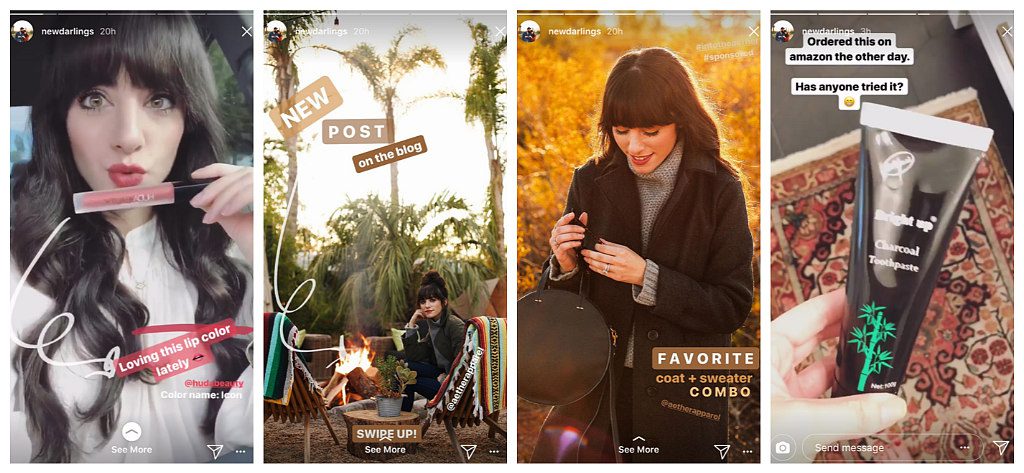 There are more than 400 million daily active users of Instagram Stories.
Stories allow Instagram and Facebook users to share photos and videos to their "Story", which is visible to followers of the user's Instagram and Facebook accounts, and to specific users you share the story with. Like in Snapchat, Instagram, and Facebook Stories are ephemeral, meaning they disappear after 24 hours.
Stories are a great storytelling tool that can drive a ton of engagement and value for your followers. There are lots of ways to get creative – whether you use multiple raw images or videos, or add various text, stickers, filters or effects. The options are endless.
How to make Instagram Stories
In the app, click the camera icon in the top left corner to access the Instagram Stories camera
Tap the white circle at the bottom of the screen to take a picture, OR
Press and hold the white circle to record video, OR
Swipe up (or select the square gallery icon on the left) to use pre-existing visuals
At the bottom of the screen, you can select a format to experiment with: Type, Music, Live, Boomerang, Superzoom, Focus, or Hands-free.
Individual videos you add to your Instagram Story each have a maximum roll time of 15 seconds and on Facebook videos can be up to 20 seconds.
Despite Stories' runtime limits, there are ways to play longer videos in your Story. Specifically, you can split a video that's longer than 15 (or 20) seconds into 15 (or 20) second segments and add each segment to your Story so they play one after another. Here are a few apps that can help you do it.
Take Advantage of all Story Features:

Filters: You can put your own filters on images and videos or you can use the standard Instagram options by swiping left or right after taking or uploading a photo or video.
Instagram Story Filter #1. Paris
Instagram Story Filter #2. Los Angeles
Instagram Story Filter #3. Oslo
Instagram Story Filter #4. Lagos
Instagram Story Filter #5. Melbourne
Instagram Story Filter #6. Jakarta
Instagram Story Filter #7. Abu Dhabi
Instagram Story Filter #8. Buenos Aires
Instagram Story Filter #9. New York
Instagram Story Filter #10. Jaipur
Instagram Story Filter #11. Cairo
Instagram Story Filter #12. Tokyo
Instagram Story Filter #13. Rio De Janiero
Effects: These are probably the most fun of the features you can play with. Effects are the bubbles that show up to the right of the camera icon that offer you unique backgrounds or animations to add to your image or video. These are most like Lenses on Snapchat and they change from time to time so you can continue to be ultra creative with the various ways you create and share content with your followers.
Location: A location sticker allows your followers to see where you are (don't be too specific — stranger danger) and adds a personal touch as well as increasing your visibility to those who may not follow you but also be in that area.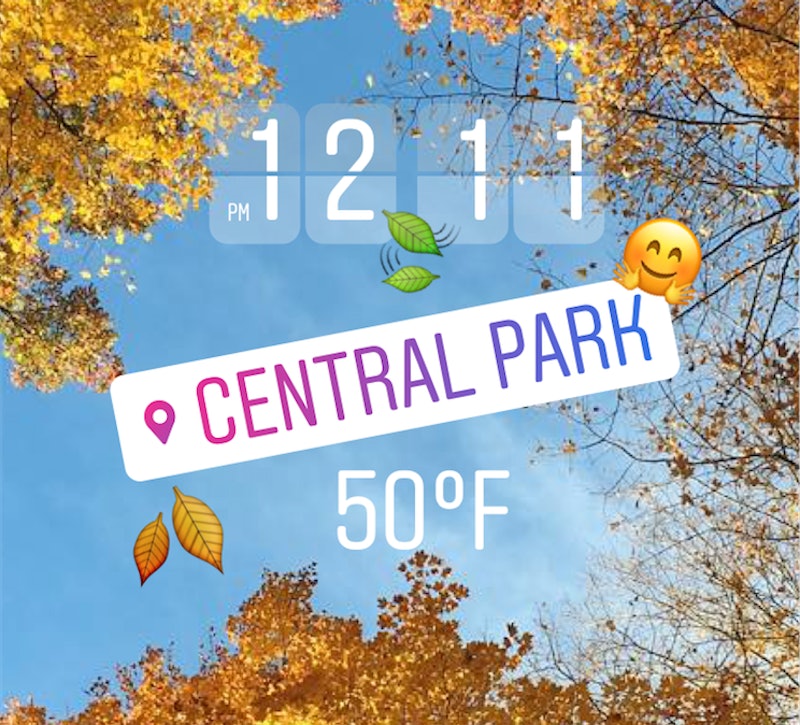 Polls/Questionnaire: Use polls to get instant feedback from your followers. They are a great tool to help you setup your chunking strategy! Post a group of questions and then dive into them in an IGTV or Youtube video later that week.
Stickers/Gifs: Looking to make people laugh or add a certain flair to your story? Use stickers and gifs. With a plethora to choose from, your storytelling options are endless.
Side Note: Stickers and gifs are a great way to hide your hashtags when looking to gain exposure but not bother your followers with busy words or lose the aesthetic of your story.

Text: For those Stories that mention an upcoming giveaway or shoutout, simply using the text tool to let your followers know to turn their sound on could make the world of a difference. Just one way to get those to really listen as well as add a personal touch.
You can make Stories in the app or use other tools to make it beautiful. A great tool we love to use to create Stories outside of Facebook or Instagram is Canva. Learn more about how to create Stories with Canva here.
Story Highlights:
Save some of your Stories for later! Highlights on Instagram are an addition to the overall aesthetic of your profile, so give them the attention and effort they deserve. You can create cover photos for that story highlight as well as their own title – get creative!
To create a highlight:
Tap the "New" circle at the far left
No you can choose any stories from your archive
Select a cover for your Highlight and give it a name
Once you're done, your highlight will appear as a circle on your profile. You can have as many highlights as you like, and they will stay on your profile until you remove them. To edit or remove a highlight, just tap and hold that highlight on your profile.
How to get your Instagram Stories on Explore
Getting on the Instagram Explore page usually means a boost in reach and engagement, because the algorithm is showing your content to fresh, interested users.
So how do you increase your Stories' chance of getting posted there? Instagram says that the biggest ranking signal is interest: a user is more likely to see Stories similar to ones from accounts they already follow. However, things you can do to help your chances include:
Posting video (they get more attention because they auto-play in Explore, but a good photo will do better than a mediocre video)
Posting highly visual Stories that don't have too much text
Posting stories that are representative of your brand's visual identity (for more on this, see Tip #1, below)
FYI – Stories that you repost from other users, however good for pumping up your post volume and building relationships, are not usually featured on Explore.
The three things you shouldn't do with Stories:
Don't reuse Snapchat Stories: Snapchat filters are unique to Snapchat. Content is always better when it's native to the platform you're intending to post it on. If you plan to reuse a video, save down the raw version and edit each with the tools each platform offers individually.
Don't forget your feed: It's easy to get addicted to Stories, but don't neglect your feed content. Just posting stories and rarely posting feed content could hurt you rather than help you. Remember quality over quantity.
Don't go overboard: Adding text, gifs, and stickers to Stories are great but don't do too much. Use the extras to help you tell the story, not be the story. Better to split the story into multiple segments if you have a complicated message you want to get across then trying to fit it all into one.
Stories are a great way to engage with your followers. Experiment with filters, stickers, polls and segments until you figure out the style and formatting that works for you and your audience. Remember, Stories only last 24 hours, so don't get all caught up on the post needing to be perfect. Have fun with it!