By Lissa Regets
Let's face it: organic reach on Facebook and Instagram are at an all-time low, and recent algorithm changes show the decline is here to stay. It's become a pay-to-play world, and social media influencers will need to step up their ad buying chops to get their content in front of people who in the past would have discovered their photos and videos organically. 
In this post, we'll dive into how to place advertising buys on Facebook & Instagram. You can place ad buys using the same tool for either platform, and we'll get into how you do this later. 
First things first – Why should I buy ads? 
🤹‍♀️People are busy, and attention is limited. Throughout the last 20 years, the average human attention span has reduced from 12 seconds to 8 seconds. When you buy ads, you can select who may see your post, when and where they can see it – giving your content its best shot at being seen. 
🥰You're a content creator for a reason – you crush it at making entertaining, inspiring, educational, or hilarious photos and videos. Why not give yourself the opportunity to share your content with groups of people who might be interested in it? When you buy ads, you can share your video about confidence with, you probably guessed it, people interested in confidence. That engagement rate you have been working to increase – well get ready to see it blow up when you find the perfect marriage between content and audience. 
🧑‍🔬 Get where you are going faster. Whether its testing content to see what sticks or trying to hit goals for a brand deal you are working on, buying ads allows you to reach more people than you could organically and do so quickly. In just a day and less than $100, you could reach more than 20,000 people. 
Ok, I'm in – so how do I get started?
We recommend you create an account through Facebook Business Manager. This tool is the same one major brands and advertising agencies use to create and run their ads; thus it comes with more bells and whistles for you to take advantage of. 
Go to business.facebook.com/create and select Create Account.
Enter your name and confirm your identity with Facebook login credentials.
Follow the prompts to create your business account.
Claim your Page
Add a Credit Card
 If you get lost along the way, here's a guide from Facebook on how Business Manager Works. 
Once you have set up your account, you're able to start buying ads. 
Ok, what's next? How Facebook & Instagram Ads are Structured.
Think of Facebook and Instagram ads like a family tree. Grandparents or Campaigns run the show, they give the entire family a direction to go in and goals to seek out. Parents or Ad Sets define how we will attempt to reach our goals. Grandchildren or Ads put themselves in front of people and generate the attention to get the results we're after. When you get all three of these levels working together towards achieving a specific goal, it's amazing what you can accomplish.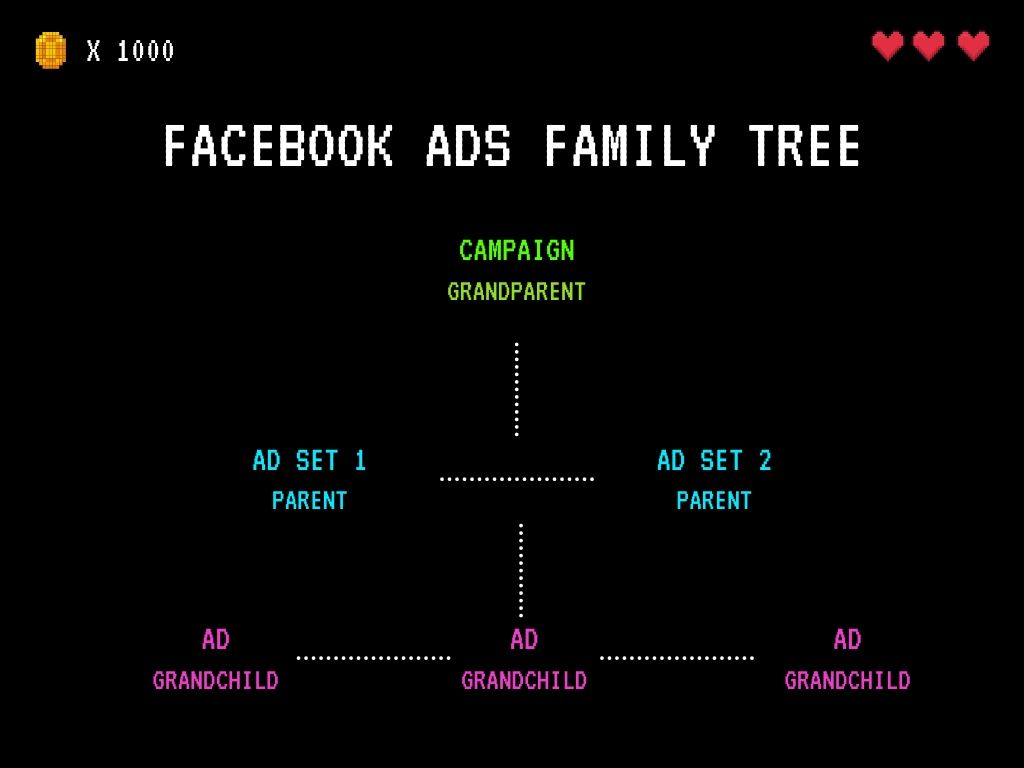 Let's get more specific.
👨‍🦳Campaigns: Your Campaign defines the direction you want to go with your ads. At the campaign level, you can select Auction or Reach and Frequency. Choose Auction. Reach and Frequency is reserved for large brands with big budgets – the buy is locked at the beginning. You'll want to make changes, or optimizations to improve performance, so Auction is better. Next, you'll select your goal or marketing objective. There are three categories – 1. Awareness, 2. Consideration, or 3. Conversion. To know what to select, you'll need to answer one question – What do I want my ads to do?
 Awareness

 – I want to reach lots of people

 Consideration

 – I want people to take action after seeing my ad, i.e., I want someone to visit my website, view my video, fill out a form, etc. 

 Conversion

 – I want people to buy a product from me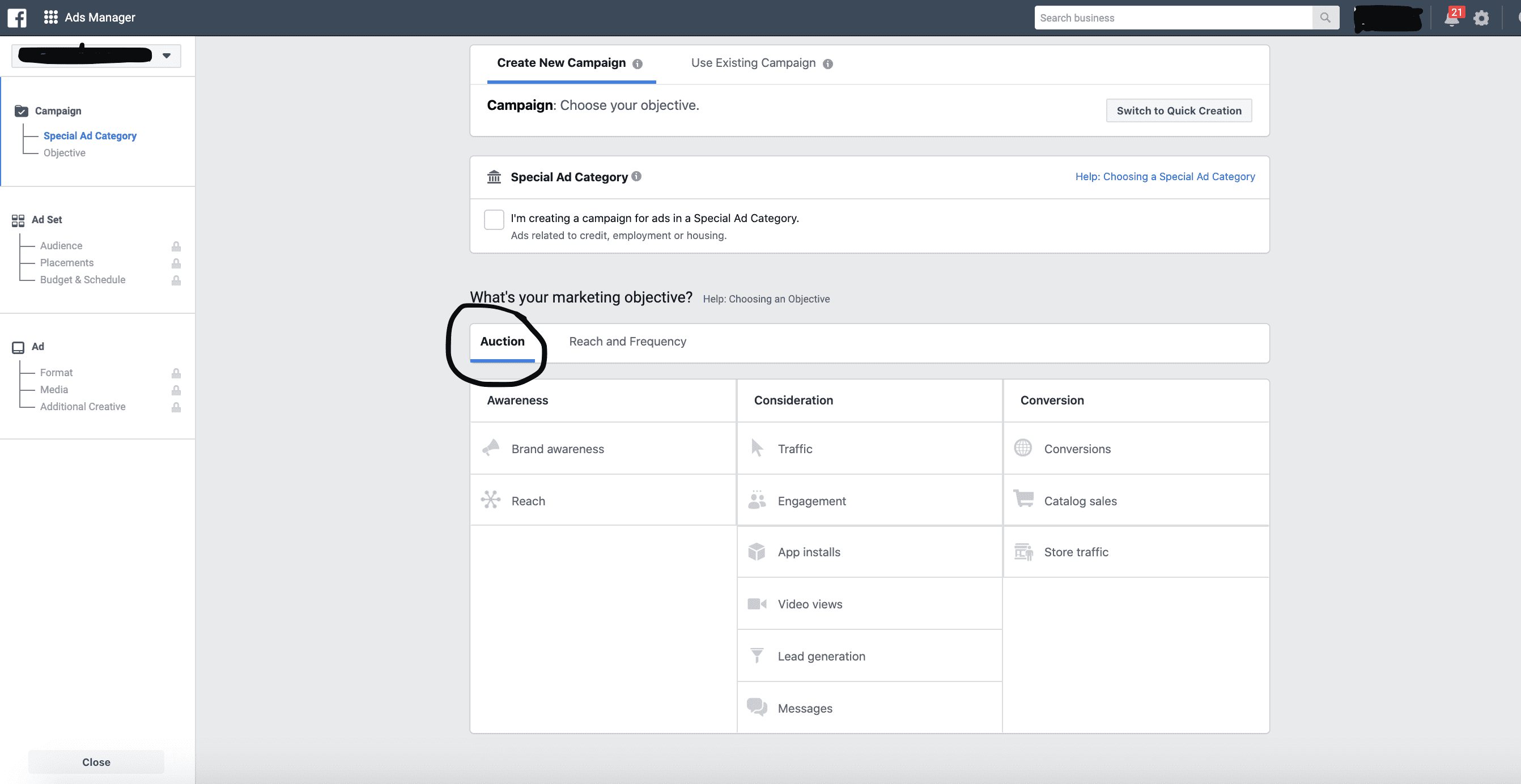 Facebook's and Instagram's algorithms are smart. It knows who is more likely to view, click, or buy and will select specific groups of people to give you the best result based on your selection.
Let's say you want to create more engagement on your posts, and you select "Engagement" from the "Consideration" section. You'll want to give your campaign a name and define a budget, either daily or lifetime. 
What is Campaign Bid Optimization or "CBO"? This is a newer buying method that Facebook unveiled that will become the standard or default way to buy for everyone sometime in 2020. It essentially gives more control to Facebook to automate the buying process. If you uncheck this box, your buy will be manual, meaning you have full control over how the campaign will be optimized. There are pros and cons to both. We recommend using CBO if you don't have a lot of ads experience.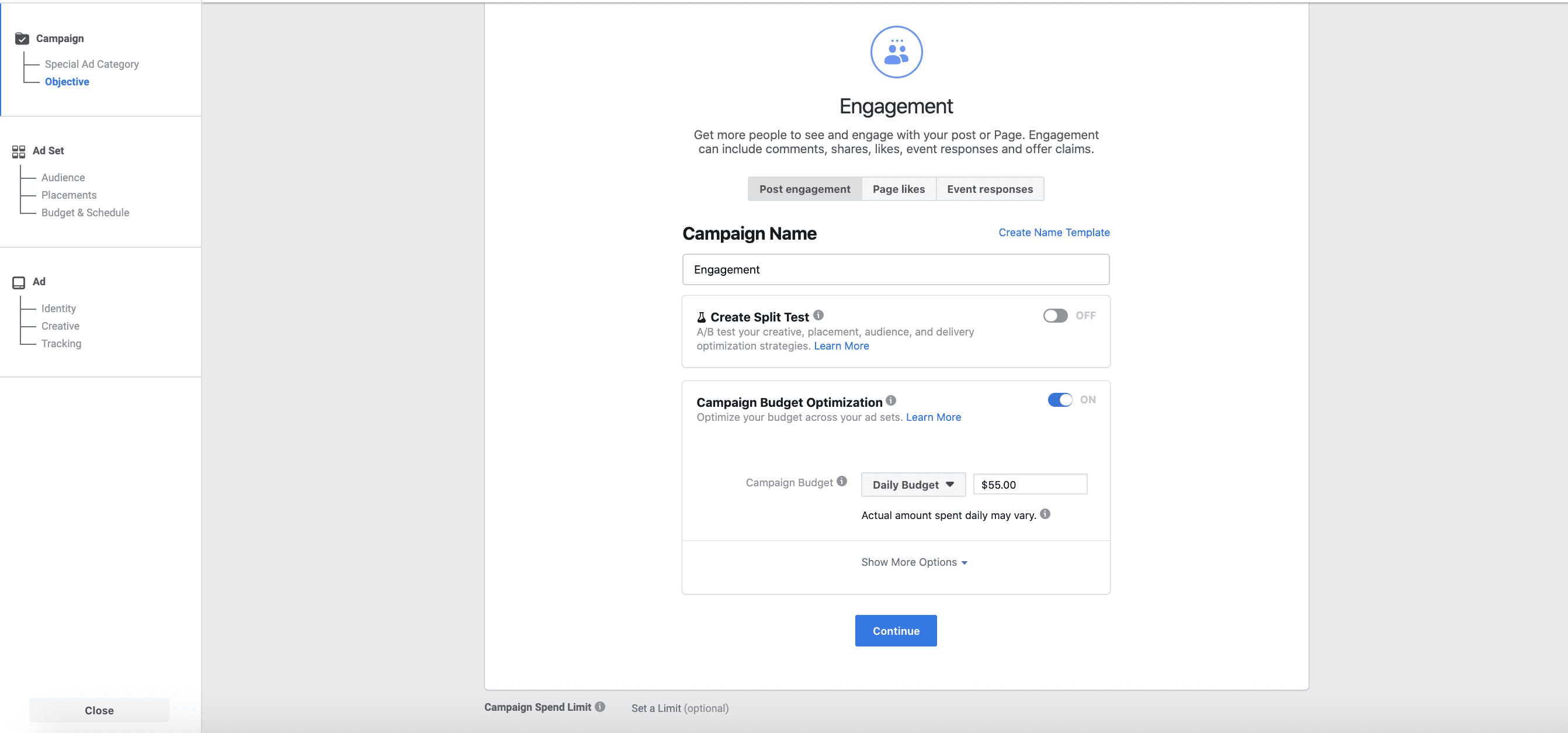 If you click on "Show more Options," you'll see you can change the buying type, schedule ads to be live at specific times throughout the week, and accelerate your budgets if desired. 
There are many strategies behind which bid type is best. Ultimately, you'll want to test various bid types to see what works best for you. 
Lowest Cost is the default bid type and is a good starting point. With this bid type, the system will have less controls in place, which allows you to scale your success quickly. Beware, with this buy type, you must monitor your spending, as the system will spend through all of your daily budgets. It's better to use daily budgets and set them low to start, slowly increasing day over day as you start to see the results you are after.
Cost Cap allows you to control the cost you are willing to pay for an action. The downside of this kind of bid type is that you may not be able to spend your budgets if the target CPA (cost per action) is too low for the marketplace. *Bid type best suited for Consideration or Conversion campaigns.
Bid Cap allows you to competitively bid for impressions (people's attention). If you are trying to reach a niche audience and want to make sure your ads are seen, consider using Bid Caps. This is also another way to control your costs.  

*Bid type best suited for Consideration or Conversion campaigns.

Target Cost tells Facebook what you want to pay for a specific action and will try to spend initially to generate the actions you want, then, over time, become more efficient (aka lower the cost per action). If you don't have a ton of cash to invest in optimizing your campaigns, you might want to stay away from this bid type.

*Bid type best suited for Consideration or Conversion campaigns.
👱‍♂️Next, you'll create your first Ad Set. At this stage, you chose WHO will see your ad. Keep in mind, the smaller the audience size (shown on the right in the screenshot below), the higher quality the target audience, HOWEVER, it is also harder to reach those people (your ad will only be shown when they are logged into Facebook or Instagram) and the more expensive it will be to reach them. 
Give your target audience a name
Demographics: Location tells Facebook where you want the ad to be shown. You can target an entire country, state, city, DMA, or zip code. Choose the gender and age(s) of the people you want your ad to reach. 
Interests: Under "Detailed Targeting," you may select from a wide variety of interests and behaviors.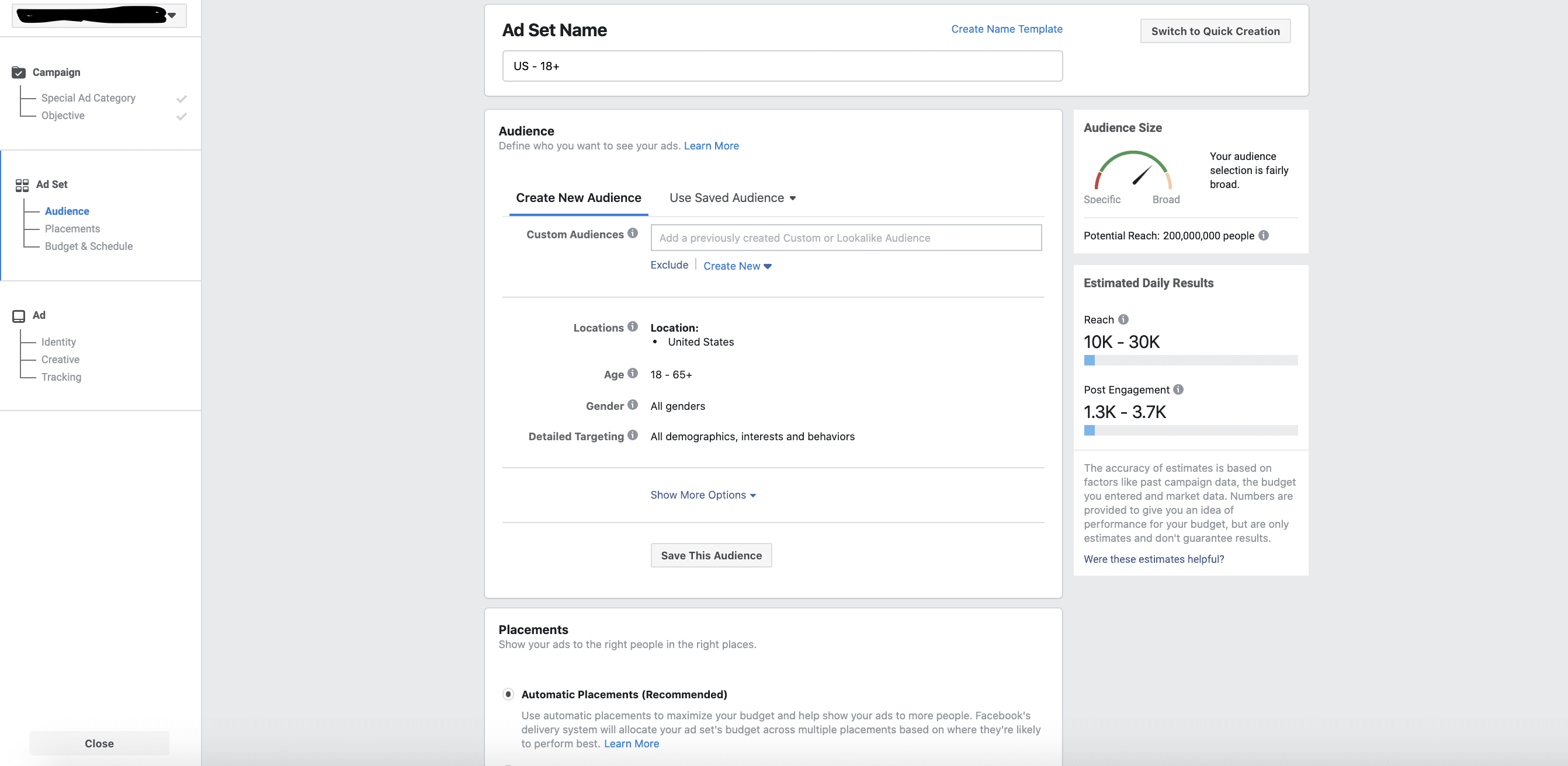 Custom Audiences: You can create Look a Like (LAL) audiences based on email lists, people who engage with your Page, people who watch your videos, or people who view pages or buy products from your website. These types of audiences are considered to be the most valuable, because Facebook and Instagram will find the exact people who took these actions, and then go find more of them for you to reach with your ads. We won't go into how to make one of these audiences in this article. However, you can navigate to the area you can create them within Business Manager by clicking on the 9 dots on the upper left-hand corner (next to "Ads Manager") and selecting "Audiences."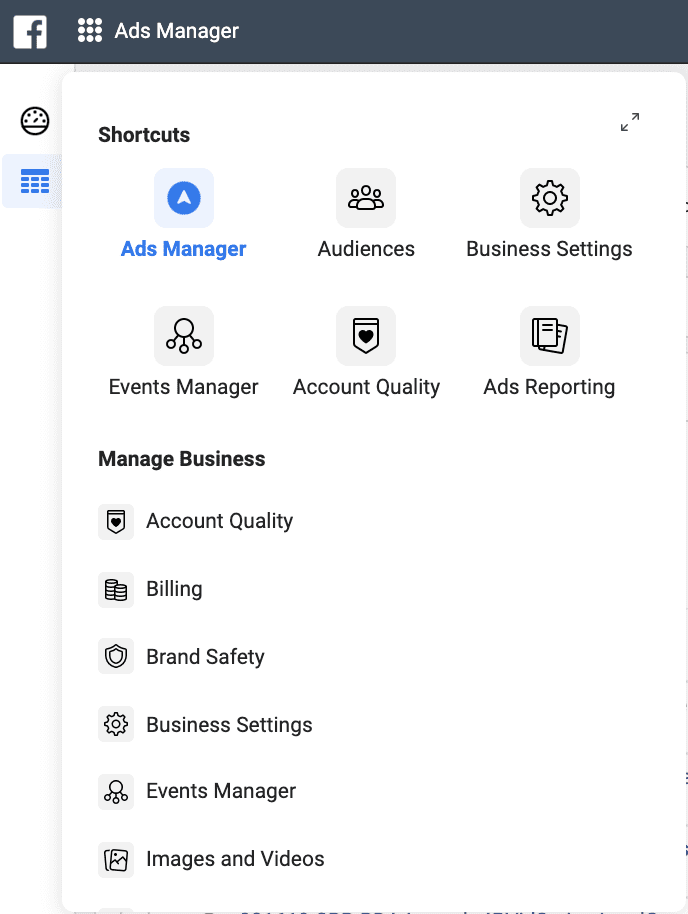 If you only want to serve your ad on a specific platform, for example, only Instagram, then you'll want to do that in the "Placements" section. Select "Edit Placements" and uncheck everything except Instagram. You can even get more specific and choose only Feed or only Stories. We recommend you select the placements that will provide the most native or natural environment for your ad creative to run. For example, if you plan to only use Instagram Story content (vertical videos), then only select Instagram Stories. If you want to reach the most amount of people and you think your creative is general enough or sized correctly to run across multiple placements or environments, then select Automatic Placements.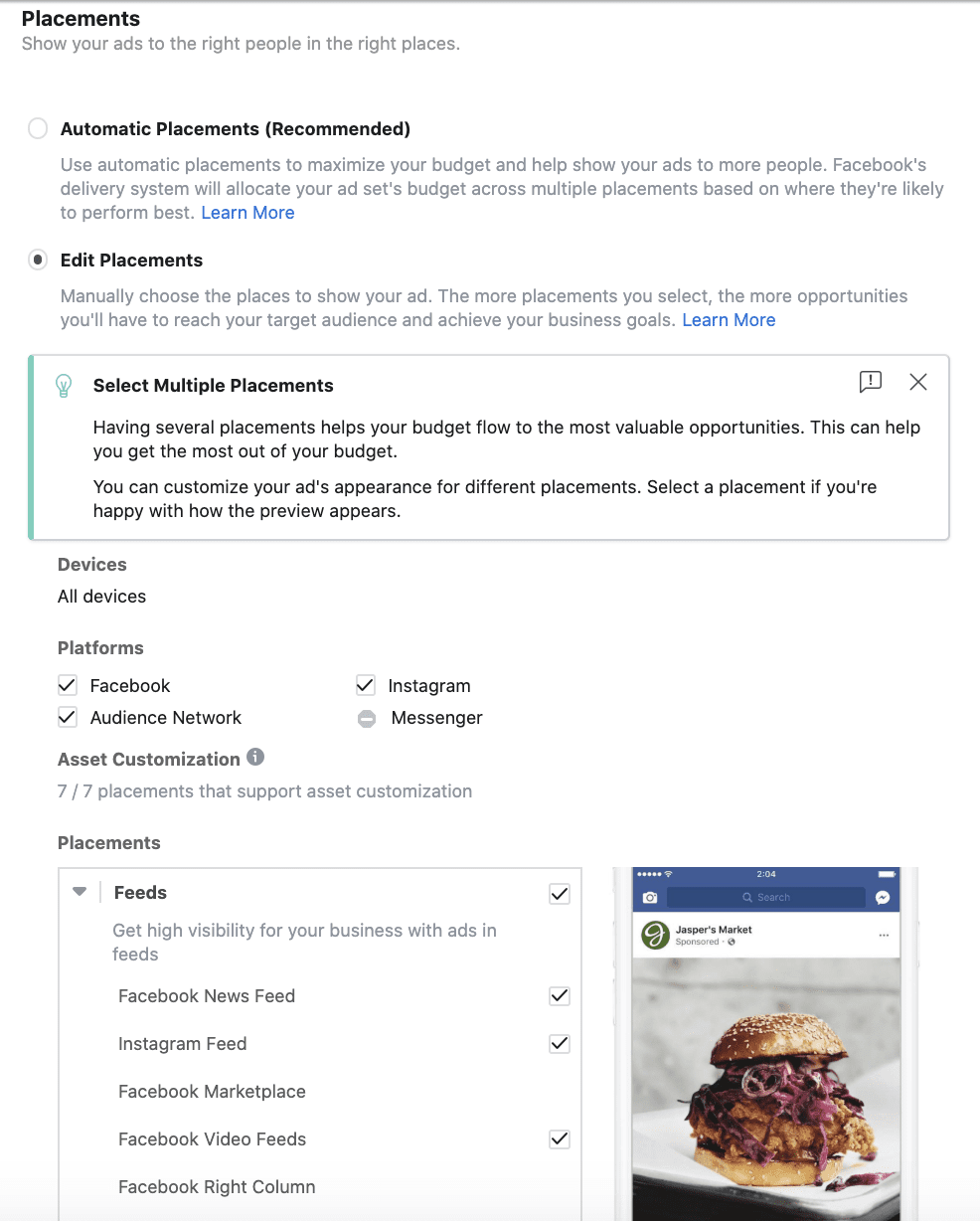 The last thing to do when creating an Ad Set is to choose your Start and End Dates, confirm your Cost Control and choose your Optimization Event – or what it is you want Facebook and Instagram to automatically improve your campaign's performance based on. In this example, we chose Post Engagement, as we want to generate the most likes, shares or comments on our post at the lowest cost.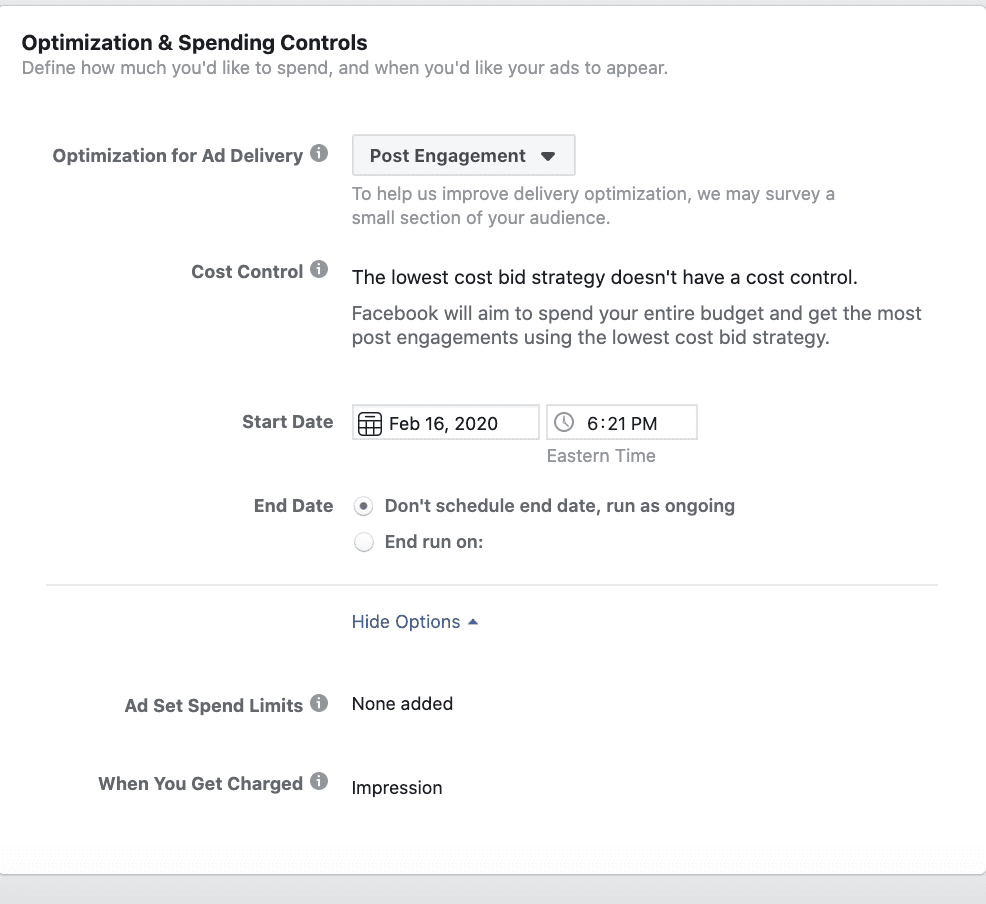 👧 On the next page, you can create your first ad. This section should look pretty familiar, as you're well versed in creating amazing content. 
1. Select the page(s) you want the ad to be authored by
2. Select an existing post or create a new post. If you select an existing post, you won't be able to edit the post from this screen. If you create a new post in the engagement campaign type, you will see this post published on your feed.
3. If you are running a Conversion campaign, you can build posts that will never be public, but rather only be shown to the target audience you selected for your Ad Set. You will also be able to define a specific URL to send people to, and connect a pixel if you want to track those off Facebook/Instagram actions. 
When you are ready, hit the "Confirm" button and your campaign will be submitted to Facebook for approval. Campaigns can take up to 48 hours to be approved, so plan ahead if you have any deadlines. Once you have created a campaign, you can edit it from your dashboard screen. You may also add more Ad Sets or Ads. For most campaign types, including CBO, we've found its best to add 2-5 ad sets to allow for Facebook to optimize and get you the most results. 
Strategy & Buying Advice from a Pro
🙅‍♀️Never start a campaign without a goal and a plan. You'll waste your money and come out empty-handed. Think about what you want to achieve, and map out your campaign, ad set(s), and ad(s) you think will help you get what you want. 
🏃🏽‍♀️Don't launch it and leave it. The best campaigns are those that you monitor daily and make small changes to improve performance. These changes could be turning off ads that aren't doing well or adding new ones, making adjustments to your ad set or budget, etc. 
🍕Pizza. Think about budgets like pizza at a party. If you have 10 slices and invite 2 people, everyone will be full and you might even have leftovers. If you invite 15 people, some people will go hungry. The same goes for budgets. Your budget will be split across multiple ad sets and ads. Be mindful of how many ads are pulling from the same budget. 
🧑‍🔬Test and Learn. If something doesn't work, don't give up. Make a change and try again. Put yourself in the shoes of the person you think is seeing your ad. Does this post compel them to take this action? Create a testing agenda, or list of things you want to learn and work through the list, one at a time.
🤷‍♂️Don't overdo it. If you make too many changes at one time, you won't know what worked and what didn't. Be patient. 
👩🏼‍🎤Learn from others. You aren't the first person to buy an ad on Facebook or Instagram. Lots of great content is available on the internet. Facebook even offers a free course called Blueprint that will explain all the ins and outs of its buying tools. If you really get lost and need some help, there are tons of great marketers looking for some extra cash who would be happy to show you the ropes or manage the ads for you. You can find them on Growth Collective, UpWork, Fiverr or by asking around for referrals.