As you may of noticed, Social Bluebook has undergone some changes as of late.  We've upped our game on social media and content creation by launching a new podcast called, What's your Why?  You can find our first few episodes on our YouTube channel  here.
We're also getting back to our roots of creating the best tools possible for content creators around the world.  When we launched our valuations tool back in May 2015 we crashed our servers and Social Bluebook was down for a couple of hours because of all the user traffic and interest in our site.  We knew we were on to something, and we also knew that the creator community was going to want more.  We knew that the community not only needed to know their worth but that they also needed the tools so they could negotiate and broker a brand deal all by themselves if they desire.  Well, we're recommitting ourselves to continue to build the best-in-class tools that we know you need as a creator, business owner, and entrepreneur.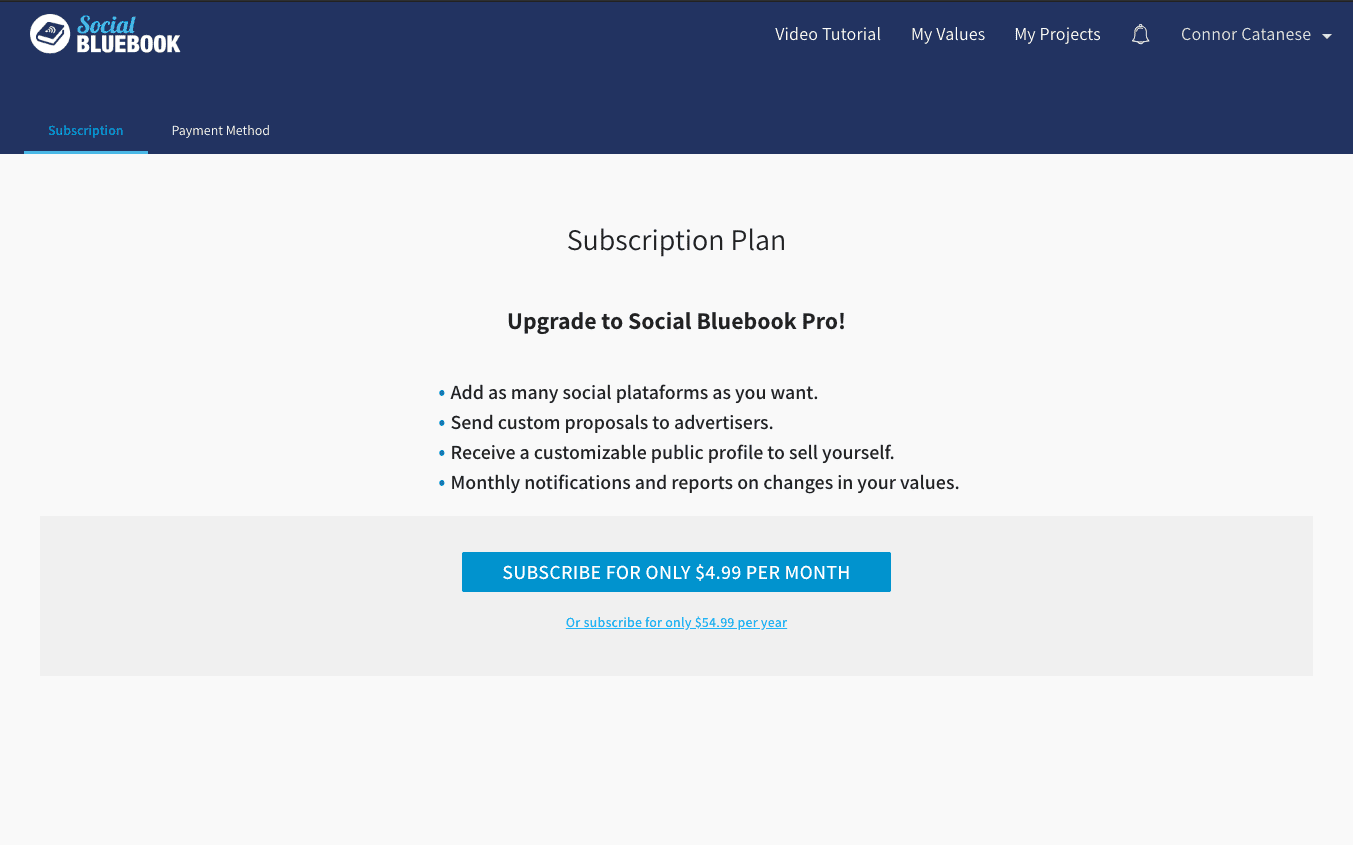 For all these reasons, we've transformed Social Bluebook into a Freemium service that provides both a free and paid membership to the platform.  Free users can add up to 1 social media platform to see their value and will be able to send 1 custom proposal to an advertiser per week.  Those users who upgrade to our paid version of the platform, "Social Bluebook Pro," will have the ability to add unlimited platforms as well as send unlimited proposals to any advertisers they wish.  This important change to our platform will allow the company to invest in more new features and tools that our users have been asking for.  This includes but is not limited to adding new social platforms for valuations (i.e. Twitch, Tik Tok, LinkedIn, podcasts, email lists, etc.), automated monthly email alerts about changes in your values, a PDF download of your values into a media kit, and much more.
If you believe in what we stand for and want to see more great tools from Social Bluebook, we encourage you to go Pro and upgrade today.  We promise to give 100% in our efforts to provide creators like you the best business tools we can so that you can spend more time doing what you love; making great content that you're fans crave.
We'd love to hear from you.  What do you think about what we're doing here at Social Bluebook?  How can we improve our offering for creators?  Let us know at support@socialbluebook.com
Thank you,
The Social Bluebook Team