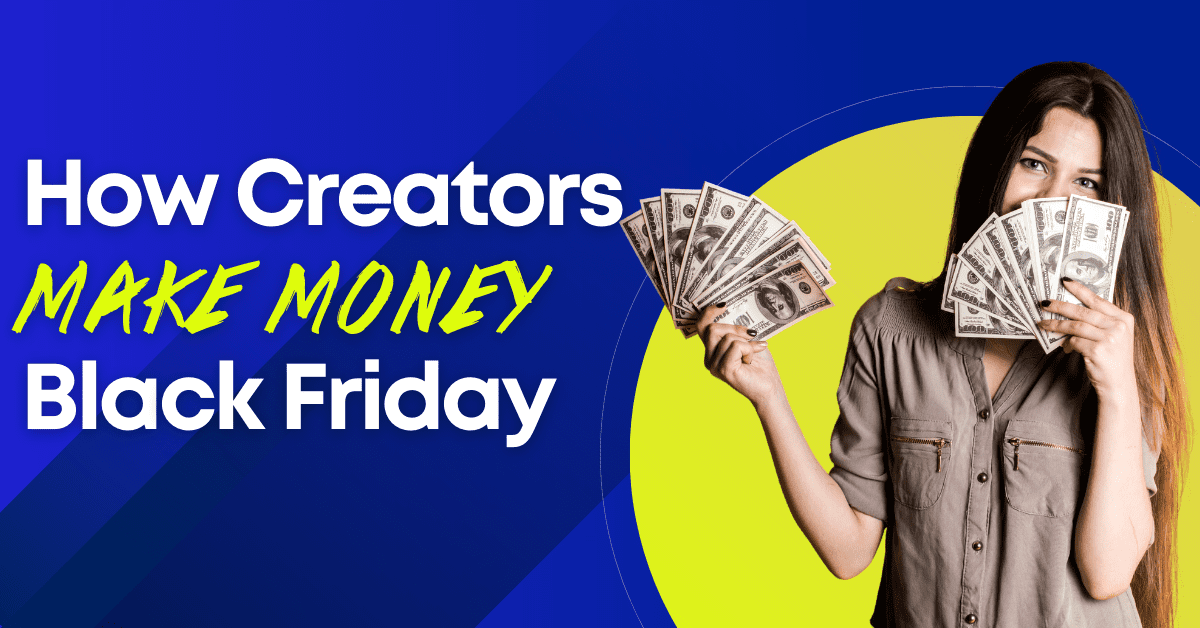 Black Friday is one of the biggest shopping events of the year. 
Consumers gather in front of stores the day after Thanksgiving to grab the biggest discounts and deals on toys, electronics, furniture, and even clothes. 
Black Friday revenue reached over $180 Billion in 2020 with the shopping trends showing consumers are shopping online more than in person.
And with research showing 49% of consumers depend on influencer recommendation, now is the perfect time to share the products you love with your audience.
Typically, working with brands through sponsorships is a great way to make an income. But with the high demand of Black Friday, most companies start negotiating with creators months in advance.
The good news is, you do not need brand sponsorships to increase sales and income during Black Friday.
In fact, below is a guide for 5 last minute ways to make money during Black Friday, Cyber Monday, and the rest of the holiday season. 
Make Dedicated Post On Social Media
One of the best ways to generate income during this time of year is through the content you already post on Social Media.
This is because your audience is used to you sharing the things you love most.
Although this is typically done through brand sponsorships, it's not the only way to generate revenue. You can still create monetized posts through affiliate marketing or even your own products and services. The best part, you can share these links on any platform.
A good example is Fitness Content Creator Sylvia Nasser who shares her favorite post and pre workout drinks on Instagram. Her audience are mostly fitness enthusiasts looking for products that fuel their workouts. Sylvia then shares the affiliate links to the products she shares to generate income.
Another example is motherhood vlogger Tana who is ramping up her gift guides on YouTube with affiliate links that she posts in her description box. 
You can even make dedicated post sharing some of the upcoming Black Friday and Cyber Monday deals happening in store and online. 
Update websites and link in bio tools
Once you have your content strategy planned out to include brand sponsorships, affiliate marketing, and your own products, you'll want to ensure your website and/or link in bio tools are optimized.
Overtime, links may change due to a product no longer being available, or the brand changing landing page destinations. 
If you have been a content creator for a while and regularly recommend products, you'll want to go through your websites and social media posts to ensure everything is clickable and takes your audience to the desired destination. 
This is also the time to refresh your content with new posts that host your links all in one place.
The creators who see success are the ones who make it easy for the audience to know what to buy and where to buy it. 
Instead of creating one piece of content per product you can share 5-10 products in one post. 
Just ensure it makes sense to your audience. The best way to do this is to group similar products together such as all household essentials in one blog post. 
You can create a YouTube video recommending children's toys. 
If you are a part of the Amazon affiliate program, you can have all your amazon links linked in your store front and organized by category. 
If you do have a website, blog, or store front that has all your links in one spot, you can add them to your 'link in bio' tool.
This gives your audience a one stop shop to easily access all the products and brands you love.
It also ensures your audience will be more likely to purchase multiple products from your links as you make it easy for them to cross off everything they need.
Email campaigns & newsletters
Another great way to share the products you love with your audience is through email campaigns and newsletters.
Just like social media and blog posts, you can have brands sponsor your email newsletters. 
If you do not have a sponsor for your email newsletter, you can still monetize your email content through affiliate marketing and your own products. 
If you are a creator who has your own merch line, products, services, now is the time to remind your audience that these are available.
You can set up an email drip campaign to promote your products and offer a Black Friday discount. 
One thing you want to avoid is making your discounts too big as it lowers your profit margin. You also do not want to run your discounts for too long. Offering discounts for 2-3 days gives your audience a sense of urgency to take action. 
Weekly newsletters are another great way to share your favorite products that are on sale. Just ensure to use your affiliate links to get credit for the sale.
Something to keep in mind is not all affiliate programs allow you to link directly in emails. 
In this case, you can share the product in the newsletter, but link to your website or blog where your audience can find the affiliate link.
No matter how you share your links with your audience, ensure to have proper FTC disclaimers. Not disclosing that you are sharing affiliate links can get you kicked out of the affiliate programs or worse, can get you fined by the FTC.
Live Streams
Another great way to increase your revenue during Black Friday and Cyber Monday is to host Live Stream Shopping events. 
During these events, you can keep track of some of your favorites companies sales and use your affiliate links in the live chat. 
This gives your audience the opportunity to ask questions about the products live. The more someone knows about something before buying, the more likely they are to purchase. 
Going live also gives your audience an unscripted look at how you really feel about the products you share. 
This raises trust in your opinion and increases the likelihood that they will buy during your stream. 
You can also leave the stream up as a replay so those who could not attend can rewatch.
Keep in mind that the live chat isn't always available after the replay, so use your description box to house all your links. 
Another great Live Stream option is the Amazon Live program. 
This program is available for creators with an iOS device. 
Being a part of this program allows you to go live from the Amazon Live App where you can share products that are available on Amazon directly to your audience. 
Your audience can then purchase the products directly from your stream which you then make a commission from.
Invest In Ads
Now this last one can be used in combination with some of the above strategies. 
I know it may be weird to recommend spending money on ads when you are trying to make money, but sometimes you have to spend money to make it. 
Ads are a great way to increase your reach so more people see what you have to share. 
If you are trying to sell your own merch, products, or services, you can make a post on social media with your black friday sale. A great example is fatherhood content creator Correy, who shares his journey to financial stability. 
With this post, Correy can now run ads behind it, so more people can see his offer and increase his revenue. 
Of course you want to ensure your content is getting in front of the right people. So when running ads, make sure to run targeted campaigns that will reach your ideal customer. Targeting your ads this way will ensure you have a better return on your investment.
You can also use services such as Prodvigate.
Prodvigate is a Google approved company that allows you to easily run targeted ads for your YouTube videos.
This is perfect for creators who are sharing content that contains affiliate marketing to increase sales. 
Just ensure when running ads, you are reading the terms and conditions carefully to avoid ads being rejected by Google.
Conclusion
No matter how you plan to create content this holiday season, ensure you have a monetization strategy in mind.
Remember, your audience is looking for you to share the products and services you love. This is why 49% of consumers will not make a purchase without a creators recommendation first. 
If you are new to product recommendations as a content creator, it may feel awkward at first. The thing to remember is you are sharing, not selling.
Recommending something to your audience should feel as organic as recommending things to your friend. If it doesn't feel right, then don't do it. Your audience trust is more important than the commission you may make on a few sales. 
Also, keeping your audience front of mind will pay off in the long run and increase your revenue faster over time. 
Let us know in the comments how you plan to monetize your content during the holidays this year.