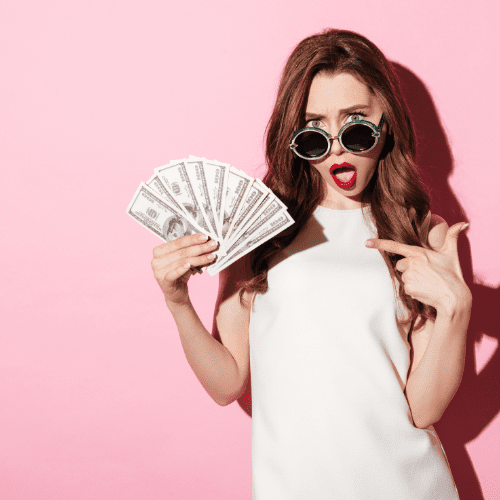 Over the weekend, I was doing business as usual, coaching content creators and talking to friends about our own Influencer business. It didn't take long for me to realize there was a recurring question being thrown around no matter what size influencer I was talking to; "How much should I charge for brand deals?"
Of course, there is no one size fits all answer, but there are some guidelines you can use to determine your starting price and adjust the numbers from there. So let's dive into the different types of brand deals, what brands REALLY look for when it comes to paying Influencers, and how to determine your pricing. 
What is a Brand Deal?
A brand deal, or brand sponsorship, is best described as a partnership between a brand or company and a content creator/Influencer. The typical goals for a Brand could be to build awareness, generate sales for a product or service, or simply to keep customers engaged with their brand through the creator's audience. 
There are different types of brand deals the company will use depending on brands campaign needs, influencers following size, and companies budget which include:
 Product-For-Post
Pay-Per-Post,
Pay-Per-Sale
Pay-Per-Click
Let's dive into each one. 
Product-For-Post
 This is the most common type of brand deal for smaller and/or newer content creators. This is when a company will reach out to a content creator to advertise a product or service on the content creator's platform in exchange for being gifted products and services. 
Although there is no monetary compensation involved in this type of brand collaboration, this can be a great way to build your media kit (or resume) as a creator. It can also be a great way to establish a relationship with a brand and negotiate a paid collaboration in the future, especially if the initial collaboration went well and the brand saw a high conversion rate.
PRO TIP: Remember to set expectations early on in the relationship that you want to work with the brand in a paid capacity.
When should you agree to accept this type of collaboration?
Although it can be tempting to turn down product-for-post collaborations because you want to just work for monetary compensation, but strategically mixing in these types of brand deals can actually benefit your creator business.
Use the following as a guideline for accepting these types of brand deals:
Are you new to influencer marketing and is this your first brand deal? If yes, then product-for-post may be perfect for you as it can help jump-start your creator resume and help you negotiate paid brand deals faster.
Do you have a smaller following and are finding it hard to land paid brand deals? If yes, then doing a few product-for-post collaborations can help you track your conversion rate so you can show brands in the future. A company is likely more willing to pay a creator with a smaller following count that shows proof of converting sales than a larger creator who may not be able to convert sales as much.
Would you still share the product or brand if you had to pay for it? This is a big one as it tests your authenticity and keeps the trust of your audience. You should never promote a product or a brand just because they are gifting you free product, or paying you to, always ensure it aligns with your niche, audience, and something you would actually use or belive in.
Pay-Per-Sale (Affiliate Marketing)
The next brand deal that is commonly used is known as pay-per-sale, also referred to as affiliate partnerships. 
Brands like this deal type as it lowers their risk of initial investment and only requires compensating creators when sales conversations take place. Most brands want to ensure when they pay a creator to promote their product, that the creator will be able to generate the Return on Investment (ROI) they're looking for. If the creator is new to influencer marketing, has a smaller following, or has never worked with the brand before, pay-per-sale can be a nice fit for you. 
But unlike product-for-post collaborations, the brand is willing to provide monetary compensation, but how much the creator makes depends on the creator's ability to convert traffic into sales. 
Brands will typically pay a creator between 1-50% commission for each sale that is made. This is a wide range that varies greatly depending on the product or service being sold.
Looking for a place to start with Pay-Per-Sale?
For example, Social Bluebook has an affiliate program that allows you to earn 25% commission for every person you refer that signs up for a Social Bluebook paid membership. 
To participate, you can sign up for free and once you are approved, you will receive a link that you can share with other creators through your social media platforms, emails, website, or your YouTube channel. 
When a user clicks on your link and signs up for a paid membership, you will receive 25% commission for as long as they stay a paying member.
The best part is that there is no limit to how many people you can have signed up through your link and your unique code will not expire, unless you terminate your account. 
Pay-Per-Click
Similar to pay-per-sale, are pay-per-click collaborations. This affiliate partnership is where a brand will pay a creator a fee each time someone clicks on the creator's unique URL provided by the brand. 
This type of collaboration is commonly used by brands to increase brand awareness of a website as well as give the company user-generated content to reuse in paid ads.
Similar to pay-per-sale, a brand is more willing to work with a wide range of creators as the initial investment is low risk and increases the effort of the creator to generate more clicks since the creator gets paid based on performance. 
If you are wondering if pay-per-sale or pay-per-click (aka affiliate marketing) is the right option for you, the answer is probably yes as these two options are perfect for creators of any size, especially smaller creators who are looking to move from product-for-post to a pay-per-post brand deal.
But you still want to keep the following in mind:
How much time can I invest into this campaign? Unlike pay-per-post, the amount a creator earns is dependent on sales, so the more time you have to share a product or brand, the more money you can earn. A good rule of thumb is to start with 1-2 affiliate partnerships and slowly build from there as you grow your platforms and can take on more collaborations.
What is the payout threshold? Understand with most affiliate partnership deals, creators do not always get paid out every month. Some programs will have a threshold, which means you will receive a payout when your dashboard reflects an account balance of a certain amount. Ex: Social Bluebook has a commonly used $100 payout threshold so you will receive your first payment after you earn $100 in commission.
What is the payout period? Once you reach a companies payout threshold does not mean you will get paid the day after reaching your threshold goal. Companies will typically have a 30-90 day payout period. Ex: Social Bluebook will pay out their affiliates once per month for the previous month. So if you reach an account balance of $100 in commission in June, you will receive your $100 payout in July.
Do not disregard the power of this brand deal type. Even though you may not see your first payout immediately, doesn't mean you shouldn't accept or join affiliate partnership programs. It is a great way to integrate brand deals and increase your passive income.
Pay-Per-Post (Flat-fee) 
This tends to be the most "traditional" of the brand sponsorships and one that the majority creators aim to achieve. This is the "holy grail" of deal types. Pay-per-post or flat-fee sponsorships happen when a brand is willing to pay a negotiated amount to a creator to post content based upon the creator's reach, engagement, and follower size. 
Brands will typically reach out to a creator with a campaign idea and posting requirements which can include things such as:
Dedicated videos on YouTube or other social media platforms
Product mentions (which are seamlessly integrated into a video)
Static Post such as an Instagram post
Reels, TikToks, or Shorts
Pinterest Pins
Blog Post
Etc.
PRO TIP: One of the greatest myths regarding pay-per-post deals is that creators must wait for brands to come to them. This is FALSE! Creators can create their own custom sponsorship packages that they can pitch to brands that they feel are a great fit for showcasing to their audience.
Unlike pay-per-sale or pay-per-click, a brand will give a creator a one-time fee which can be negotiated between the brand and creator based on the creator's experience, social media stats, and workload. 
As a creator, the best thing to do, when working with brands on a pay-per-post basis, is to understand your value. Social Bluebook has an easy to use Valuation tool* that will calculate your social media platform's worth based on popular metrics that are commonly used by brands to determine marketing budget such as follower count, engagement, and reach. 
One thing to keep in mind is the Valuation tool* only calculates an estimated rate you can use as a base to give to brands, but does not factor in things such as campaign expenses, production cost, or any other fees that can accumulate when making your content. 
Before jumping into pay-for-post brand deals, ask yourself the following questions:
How Much To Charge Brands
Unfortunately, there is no one size fits all answer when it comes to charging brands, but there are some guidelines that you can use when determining the cost of the campaign and how much to charge. So let's run through some steps before pitching your price. 
Make sure to properly communicate with the brand before determining price and ask for information such as

Number of posts
Platforms they are looking to promote on
If it is a dedicated video, how long do they want the video
If it is a mention, where do they want the mention located in the video

Mentions at the beginning will be worth more than mentions at the end

Think about any expenses that may occur that are a direct result of making the content

This includes props, location fees, employee rates, or supplies

Use the Valuation tool* to determine your social media rate
Also, determine early on what the licensing agreement will be. Do you own sole copyright, which will need to be purchased by the company separately, or is the price you are pitching to the company include the "right to use" your content, meaning they can repurpose your content on their own platforms. 
Conclusion
When it comes to charging brands, being informed with the type of brand deals that are available, and the different factors that go into making content for a brand are key in getting paid what you are worth, but the more prepared you are, the better, as a brand will see you for the professional that you are and will be less likely to 'lowball' you based on face value metrics. 
*Social Bluebook Valuation tool is free for paid Social Bluebook members. You can join Social Bluebook today and see what your social media platforms value is and be one step closer to getting paid what you are worth.