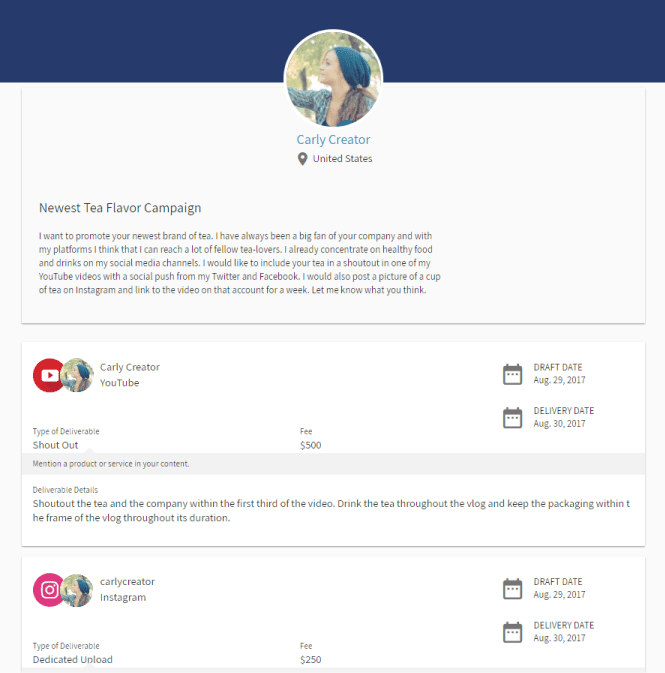 With the new version of Social Bluebook, creators have the chance to be proactive. After you and a brand make a connection and decide to work with one another, you can send a professional proposal with your ideas on how you want to promote their content.
What sort of content should you write in a proposal? In this article we go over each field, what they mean, and the best practices for getting an advertiser's attention.
Proposal title
The title should be a short and concise explanation of your overall concept. It should grab the advertiser's attention with enough detail to explain what the proposal is about. Examples of proposal titles include:
Coke Zero Cross-Platform Promotion
Christmas Sale Shout Outs for Macy's
Project: 7-Day Instagram Promo with Maybelline
What is your proposal about?
Here you want to give the advertiser a general idea of what you are going to do. In a short paragraph, explain what you are going to do on your platforms. Keep it high level; the precise details you explain later under deliverables. After you explain in a high level your plans, you have the further option, if you think it's necessary, to emphasize how well your platforms will work with the brand with examples of your audience demographics or similar past content.
Choose the platforms you will be working with
The platforms you select here are the ones you want to post on for this project. If you want more than one upload (deliverable) on a platform, click on the icon to add another upload for that platform.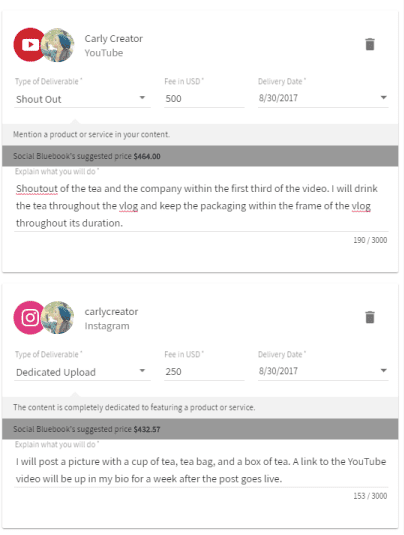 Deliverables
Inside each deliverable box are a few fields to enter in the details of each upload you propose to make for the campaign.
Add your username or URL: Include the username or URL of your platform that will host the branded content.
Type of deliverable: You can select the type of upload the content will be. Read more for breakdown on types of deliverables.
Fee: This is the amount you want to be paid for producing and uploading the content.
Upload date: This is the date the content goes live on your platform.
Explain what you will do: In this section you go into the details of the upload. Explain the content, and if relevant, specify the length of the content.
Other – Name of the platform: If you select the 'Other' platform as an option, in its deliverables box you will need to specify which platform this other platform represents.
Proposal expiration date
The expiration date is the date the proposal to the advertiser expires. It is a good idea to give the advertiser plenty of time to respond, but an expiration date can be useful if your proposal idea is time-limited (such as a seasonal promotion) or if you only have a limited amount of time until you begin other projects. You can set a longer date if you do not have a particular time limit for your proposal.
Draft due and setting the number of days before upload
Advertisers like to approve content before you upload it for them. This field gives you and the advertiser how many numbers of days they can expect to see a draft of the deliverable uploads before they are made live on your platforms. Be sure to give yourself enough time to make any necessary edits if the advertiser desires a couple changes.
If you have any further questions about writing a proposal, check out our FAQ, leave a comment below, or contact us at
support@socialbluebook.com
.