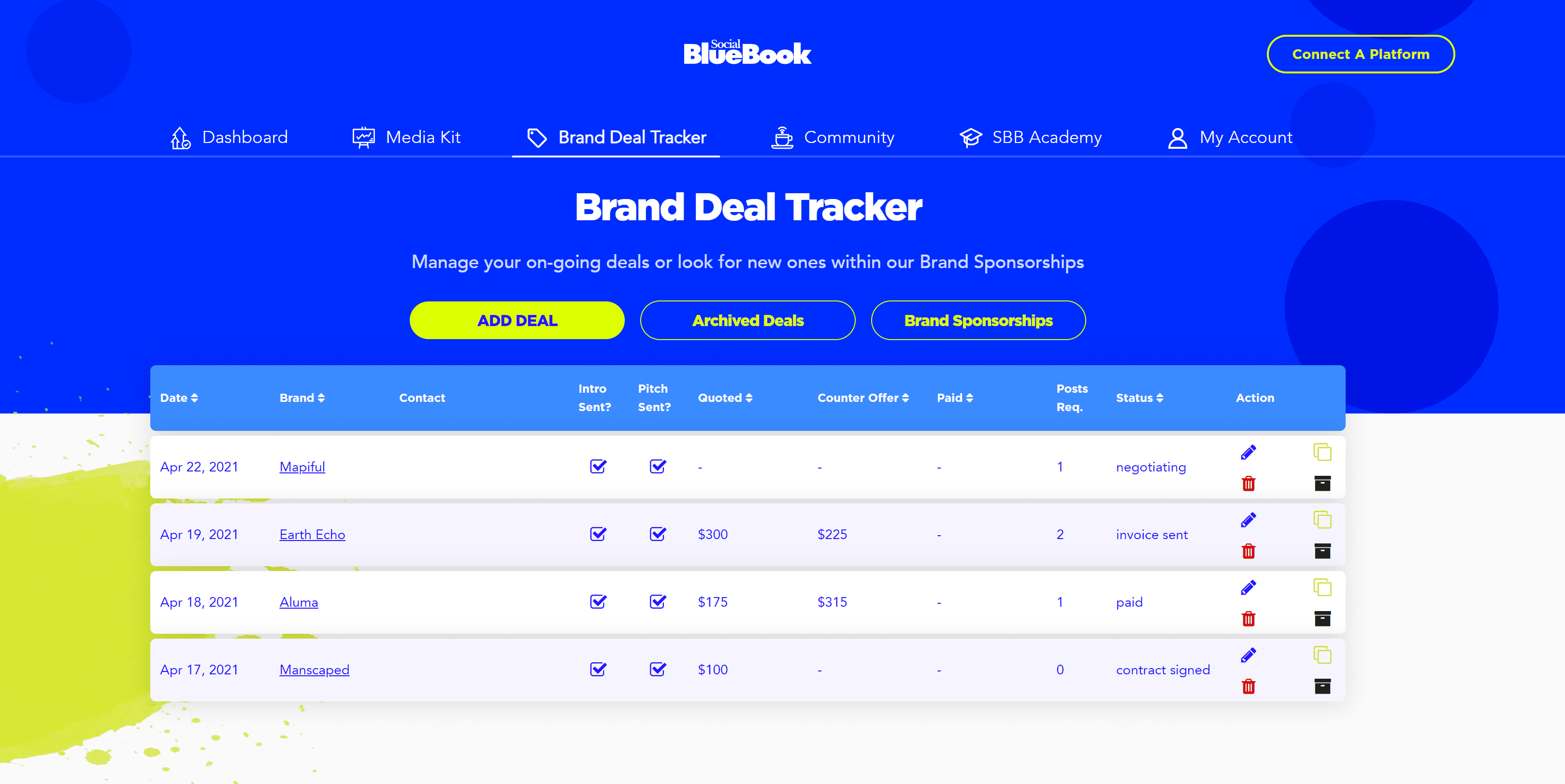 We're excited to announce our newest feature available for all paid Social Bluebook Subscribers: Brand Deal Tracker! This new feature will allow you to keep track of all of your brand deals in one place, and stay organized so you never miss important deadlines. So let's take a dive into what this feature has to offer.
Once you are logged into your Social Bluebook Account, you will want to select "Brand Deal Tracker" from the top of the menu bar. 
From there you will see 3 selections:
Add Deal: Used to create and keep track of the status of each brand deal.
Archived Deals: A place to store archived deals you don't want to delete.
Brand Sponsorships: Our beta feature to help you connect with brands that are looking to work with Influencers right now.
To add a brand deal, select "Add Deal" from the menu selections. This will bring up your tracker where you can add the following information:
Add Brand, Agency, or Company Information: Knowing who you are in communication with is key to staying organized in your business. It also gives you a better opportunity to reach out to the company directly for future collaborations.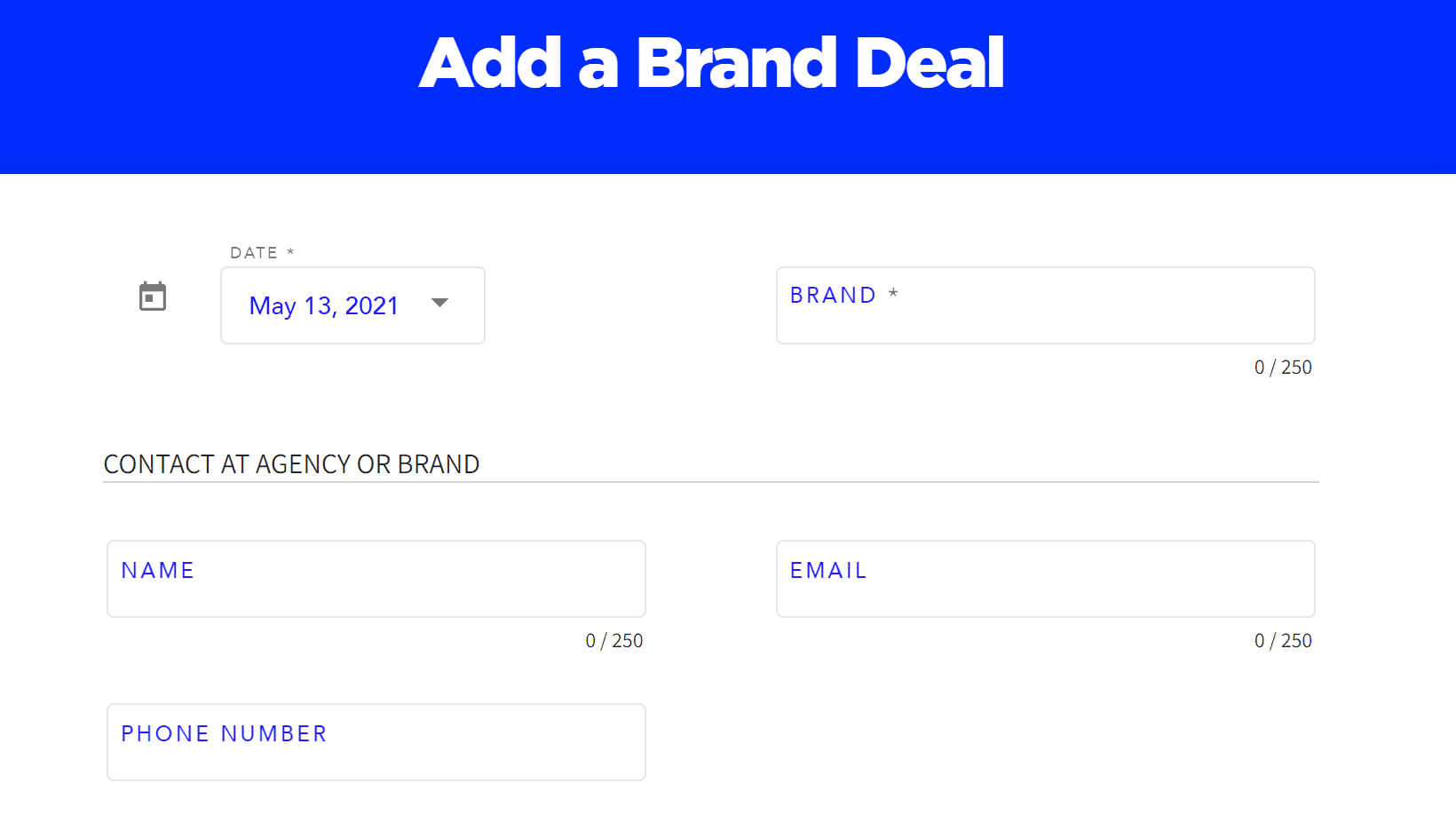 Stage Of The Deal & Price: The next section allows you to track what stage of the deal you are currently in along with the pitch price, what the counteroffer was, and what was actually paid.

This can work in 2 ways
You pitched a price to the brand, and they sent a counteroffer
Or the brand pitched a price to you and you sent a counteroffer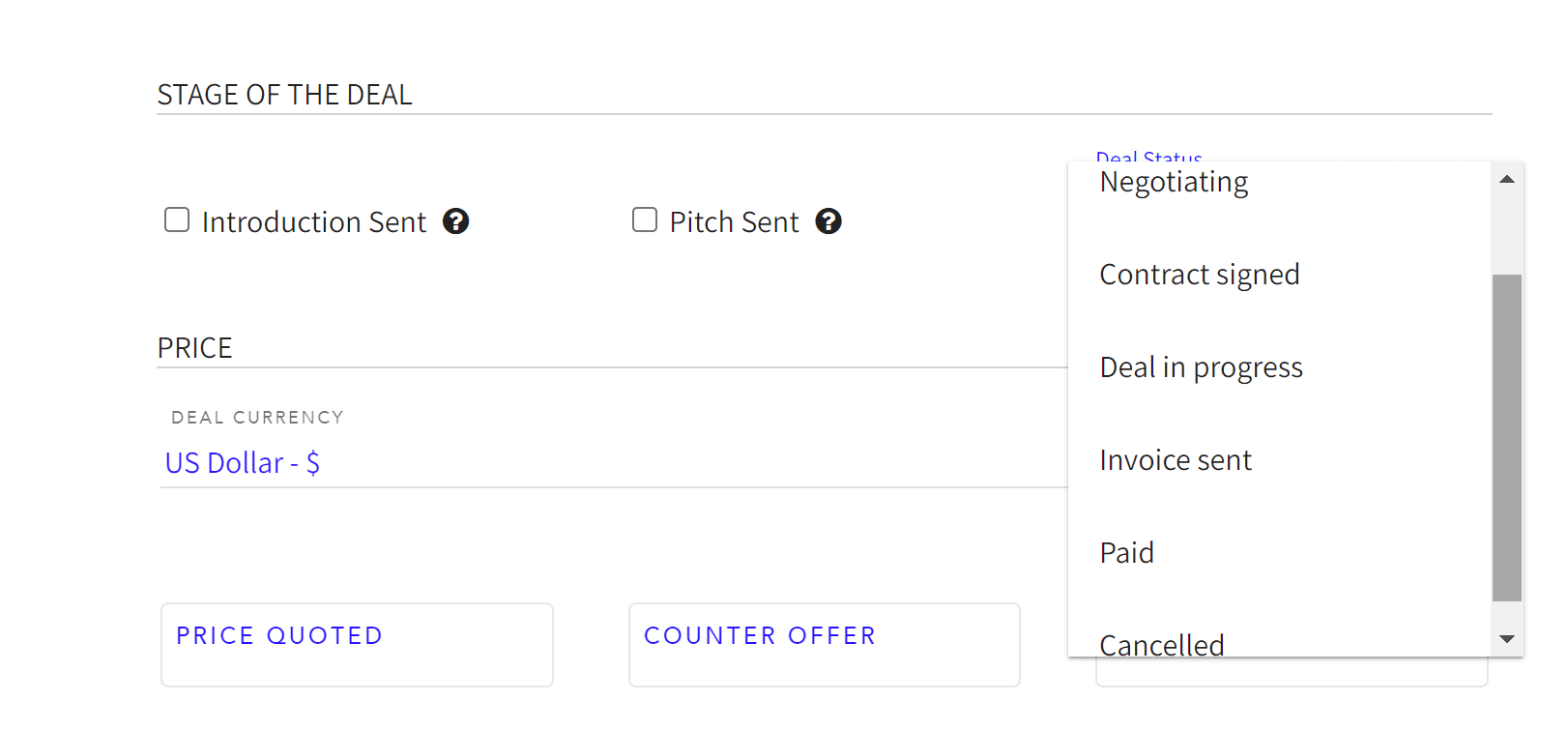 Deal Type & Platforms: 
The Brand Deal Tracker also allows you to select the type of deal you have agreed to such as flat-rate payment, affiliate payment, or CPM-based payment
You can also list all the platforms you will be uploading on as well as the type of content that needs to be made and the quantity of each content.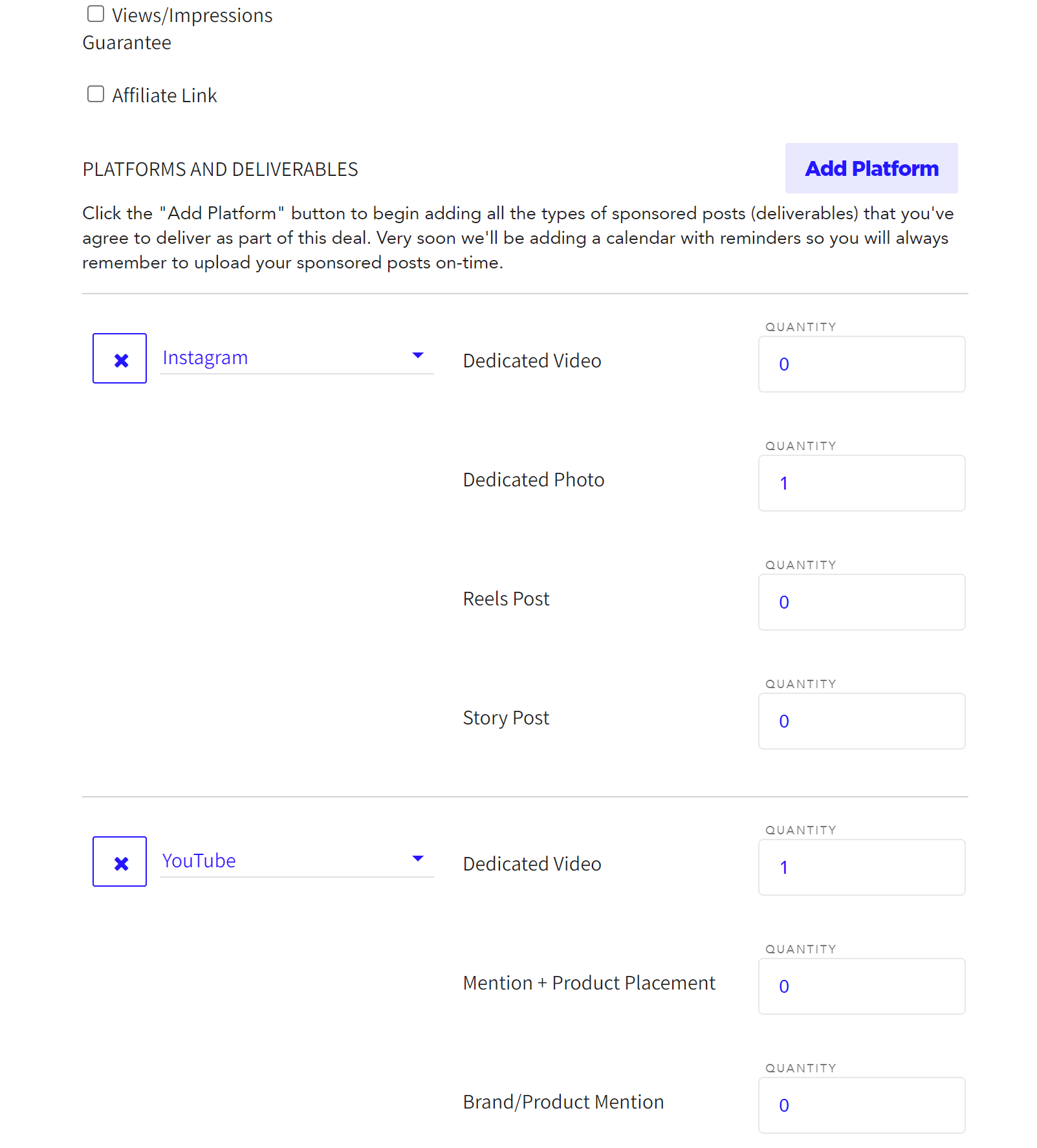 Comments & Documents: Last sections will include a spot for you to write down any comments such as the location you need to film at, special terms, or deadlines such as first draft and upload date.
You can also upload up to 5 documents including any signed agreements, terms, or completed work up to 2MB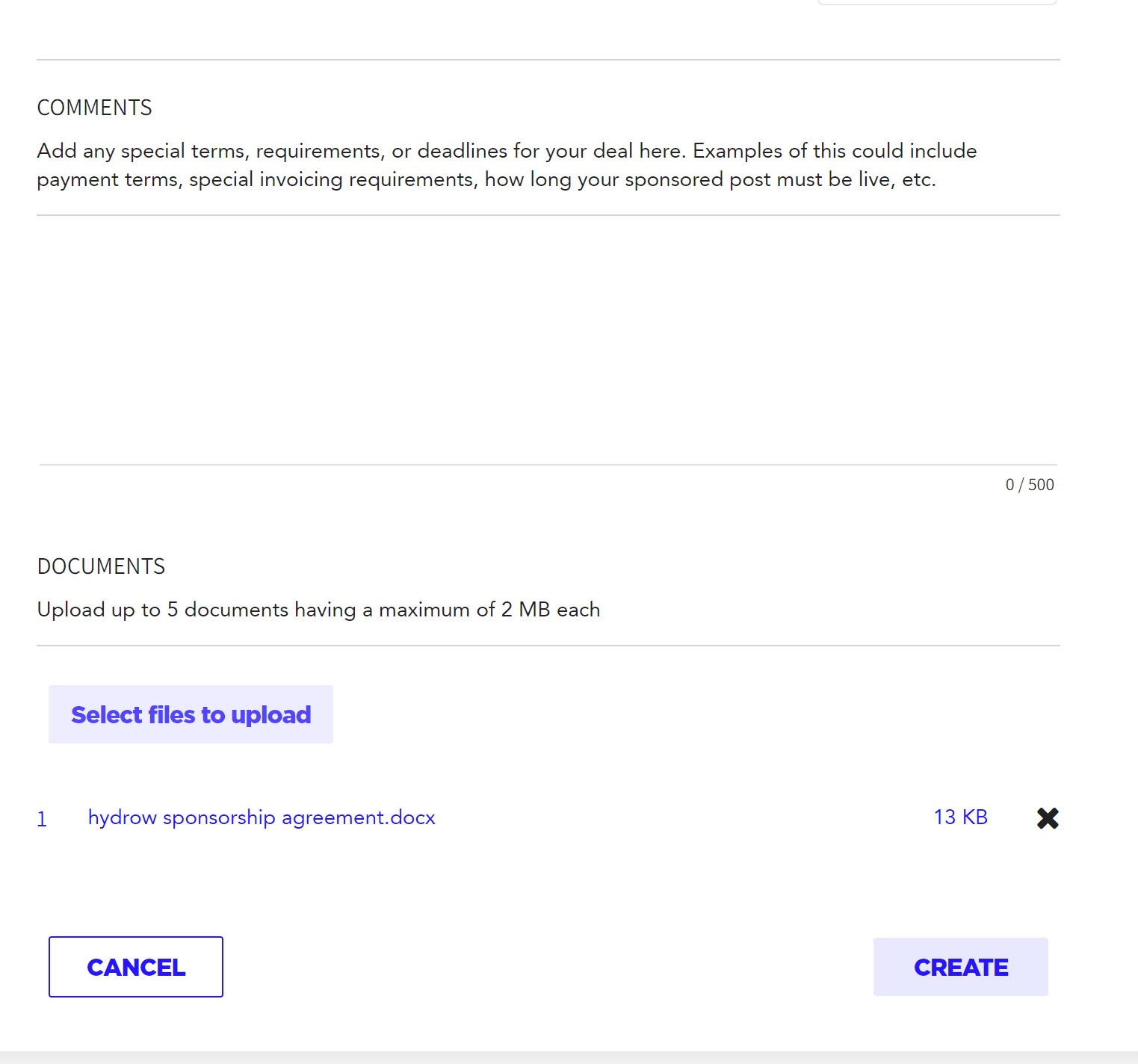 You can also edit any of your brand deals from the main "Brand Deal Tracker" page by using the tools listed under "action."

The Brand Deal Tracker is officially LIVE for all paid Social Bluebook members. All you have to do is log into your Social Bluebook account and start adding those deals today!
If you are not a paid Social Bluebook member and want to get in on all the fun, you can go to https://socialbluebook.com to sign up and start using all the Social Bluebook features designed to help you grow your Influencer business.