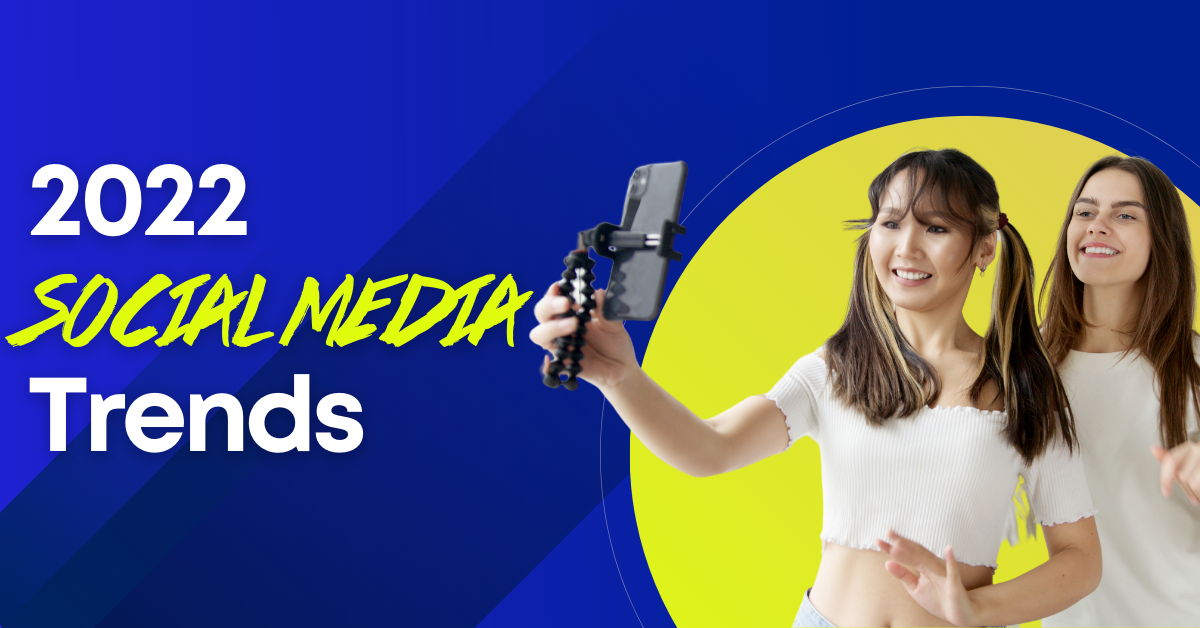 Every year Social Media trends shift as user behavior patterns start to change. This past year, 2021 could go down in history as 'The Rise Of The Creator Economy.'
According to Stripe,There was a 48% YOY (year over year) increase and they said platforms " have onboarded 668,000 creators."
If the trend continues, we should see that number rise to about a Million creators in 2022.
Just as the Market Economy trends shift as it grows, so does the creator Economy. In the past 2 years, due to changes in the Market economy, the Creator economy has seen the biggest shifts in it's trends that will continue into 2022. 
So let's look at the top 5 Social Media Trends that you need to add to your creator business strategy in 2022. 
Trend #1: The Rise Of The Personal Brand
The Creator Economy is considered to only be about 10 years old. Although, the first Influencers could be considered the Royals. In 1760 designer Wedgewood labeled his Tea Set, made for King George VI, "Royal Approved." His brand is still known as "Fit for a king and queen" today. 
As social media platforms started to expand, this gave everyone an opportunity to share their thoughts and opinions with the world. Brands soon caught onto the power that social media influencers had on consumers and shifted the way they did advertising. 
As it is, 49% of consumers will turn to social media influencers for recommendations before making a purchase according to the Digital Marketing Institute. This isn't because they are famous, it's because Social Media Influencers are friends, family, and co-workers people follow online that have built a genuine connection with their audience through relatable content. 
Consumers are becoming more conscious of who they follow and where they spend there money. They want to ensure the brands they invest in have similar beliefs and values as them. This has caused Content creators to shift away from just being a brand and adding more of a personal brand to their platforms. Catherin Manning, formerly known as The Content Bug, is a great example of not just building a Creator Business. She has opened up her business to her personal life while maintaining her brand. This has created a personal brand that her audience has come to know, like, and trust. 
As we learned earlier, almost half of all consumers will look to their favorite online creators before deciding to make a purchase. Another 40% will decide to purchase something after seeing it on a social media platform such as Twitter, YouTube and Instagram. This proves Social Media Marketing has become more powerful than traditional advertising. Which again comes down to the consumers connection with the creator and their personal brand.
When creating your personal brand, it's important to remember that you do not need to share every personal detail of your life or make it the focus of your brand. Sprinkling in some behind the scenes content is perfect. It's all about finding balance when building your personal brand.  
Trend #2: Lean Into Short Form Content
TikTok has officially become the fastest growing Social Media Platform in 2021. The platform now has over 1 Billion users with the average user spending 12 hours a month on the app. As TikTok viewership has increased, other Social Media platforms like YouTube and Instagram have also taken to the short form content trend. 
For example, YouTube launched their $100 Million Shorts Fund to increase short form content creation. YouTube short content now brings in over 15 billion daily average views globally according to Mediakix. 
Of course, YouTube followed Instagram's lead in adding short form content to their platform, after TikTok. Since adding Reels to their platform, Instagram has mentioned most of the platform's engagement comes from their Reels content. The Instagram app even had a redesign to make Reels the center focus of the platform. 
As each platform puts more emphasis on their short form content features, creators need to add short form content to their content strategy. This does not mean you should completely replace your long form content. They both have a place in your content strategy. Just ensure to understand how to use each one for maximum growth in 2022.
Trend #3: Monetizing Your Influence
One of the perks of being a content creator is the ability to make passive income from anywhere. As a creator, there are multiple ways to make money from your content. 
These include:
Brand Sponsorships

Ad Sharing

Crowdfunding

Memberships

Affiliaite sales
But in 2021 we saw a rise in creators monetizing their content with their own products and services. 
These typically include:
Coaching/Consulting

Courses

Merchandise

Digital downloads
These services that creators provide are a great way to make passive income. It's also easier for creators to monetize their content this way as they have built an audience within a specific niche and do not have to share their income with companies like YouTube, or wait 30-90 days for a pay out like you do with brand sponsorships.  
This has become a great way to supplement income between sponsorship obligations. As a creator, it's common to go a month or two without brand work. 
Of course, getting started in creating your own services can be a bit tricky. The one thing to know is most overcomplicate things. 
When creating your own products or services, make sure not to add too many at one time. You also want to choose one that won't have a large upfront cost. Example, 1-1 services are a better starting point than providing a course. 
Starting with a 1-1 service, you are able to test out your business structure before putting it into a course. There is also less start up cost as most 1-1 services only need a calendar system and online call service such as zoom. These are very cost efficient especially when you are just getting started.
Building a course takes a little more money to maintain. This is because most need a sales funnel and a hosting platform that can cost about $1,000 a year. 
Of course, choosing a product or service to add to your income stream can be very lucrative, but also can take time to build. Ensure not to put too much pressure on yourself and go slow. You don't need to have overnight success in your business.
Trend #4: Dive Into Audio Content
TikTok was definitely the talk of Social Media in 2021, but another platform that changed how people consumed content was Clubhouse. 
The audio only app has about 10 million users according to Cybercrew. This Podcast-like platform increased in popularity as it was able to bring industry leaders together with the general public. 
As more people turned to audio only content including Podcast, marketers started spending more money on audio content advertising. 
According to Exchange wire, the digital audio advertising market is worth approximately $5.97 Billion dollars. So if brand sponsorships are your main income source, then leaning into Audio content is perfect for you.
But it's not just due to the increase of money advertisers are willing to spend. Users are spending more time listening to audio content. On average, a person will spend over 16 hours a week listening to audio content.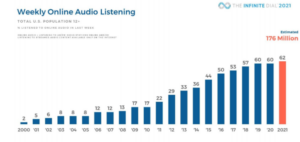 Audio content also did not see a negative impact during Covid-19. People developed new habits around audio listening as they worked from home. Users also enjoy the convenience of audio content and engaging advertising that is less interruptive. 
Of course, the last 2 years has changed the way we live our everyday lives, but audio content seems to be fitting right in.
Trend #5: Live Streaming For More Sells
According to Restream, streaming increased 21% globally in the past year which could be a result of stay at home orders. They also mentioned music, sports, and ecommerce livestreaming should see a huge increase in 2022.  
This isn't just from platforms like Twitch or YouTube. Even Instagram stories remain a popular form of short form content that closely mimics live streaming. 
Of course being a creator, leveraging income is vital for maintaining your business so platforms like Amazon have made sure to align their programs to the needs of creators by adding in live shopping functions to their Influencer programs. 
For consumers, live streaming is an easy way to have their questions answered before purchasing a product. As we know, 49% of consumers lean on social media for help in purchase decisions. With the trend of live streaming increasing, that number should also rise. 
Not only is it a great way to connect with your audience while also bringing them content they want and need, live streaming is less time consuming for the creator. Once equipment is set up, all you need to do is hit "go live" and share your stream.
Conclusion
As we wrap up a second year with mandates still in place, the way our viewers consume content will continue to shift. These five trends are on the rise as they align with the current way most people live their life. It may be different for most if you are not used to creating content this way, but if you do not shift with the trends, you may be left behind. 
Again, this does not mean you can't continue to run your creator business the way you are used to. Just be sure to add in new strategies to stay up to date with the current trends. 
Also, let us know in the comments which trend you'll be adding into your 2022 content strategy. I know I am personally going all in with short form content.