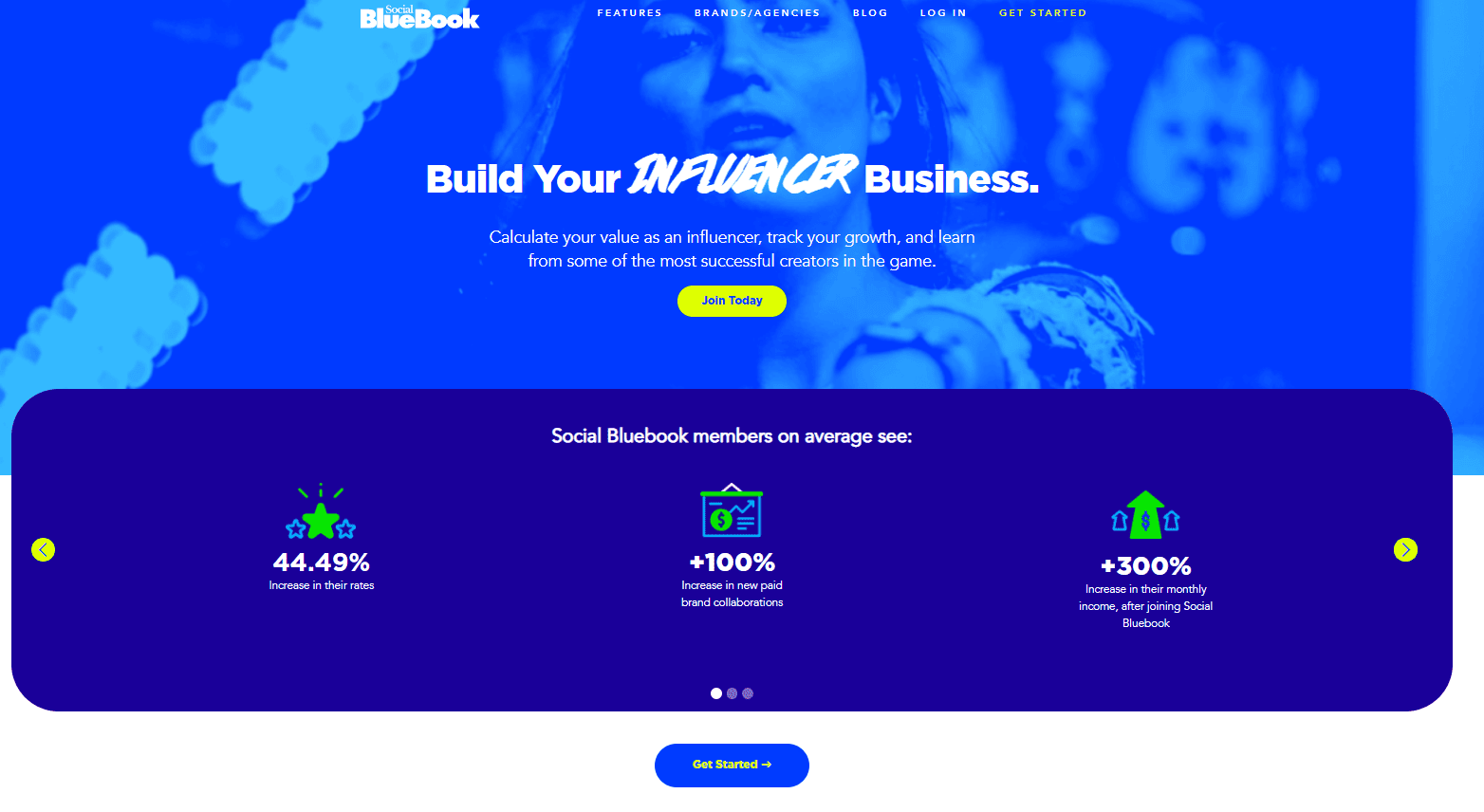 Social Bluebook started in 2014 and was known for its free valuation tool that allowed content creators to know their worth based on their social media presence. This was useful as many creators still have a hard time trying to figure out what to charge a brand for a sponsored post.

But a few years ago, Social Bluebook switched to a paid membership which left many content creators wondering, is Social Bluebook legit? And why is Social Bluebook no longer free?

Well, friend, I am here to tell you Social Bluebook is legit, and today, I am taking you through a deep dive into everything Social Bluebook offers with its paid membership.

How Much is Social Bluebook?

Social Bluebook currently offers 3 paid tiered options:

Monthly memberships for $19.95/month
Quarterly memberships for $47 charged every 3 months
Yearly memberships for $147 charged yearly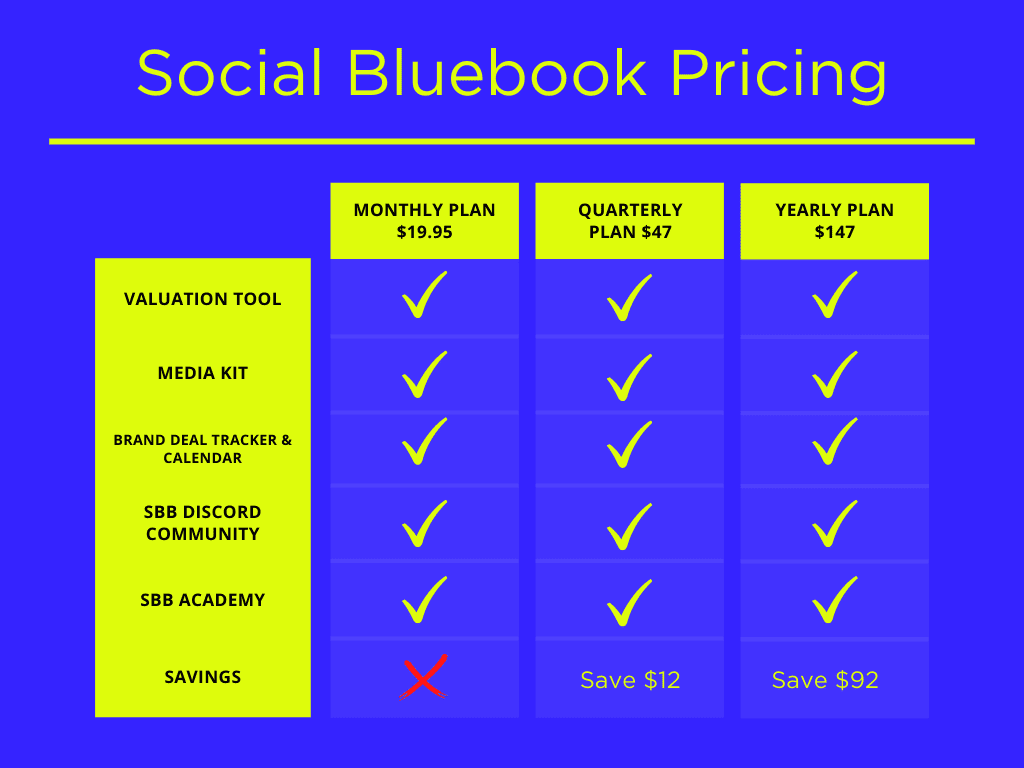 No matter what payment plan you decide to go with, you will gain access to the same tools and features, but you do save money by choosing either the quarterly (~$13 in savings) or the yearly plan ($92 in savings.)

What's included with a Social Bluebook paid membership?

Social Bluebook has added on to its valuation tool feature and is bringing premium tools to content creators for less than a dollar a day.

These tools include:

Valuation Tool with built-in Social Insights for Instagram and YouTube
A Medit Kit builder
The *NEW* Brand Deal Tracker with a built-in Brand Deal Calendar
The *NEW* SBB Discord Server with access to premium coaching (free for a limited time)
The SBB Academy
Now I know you may be saying, "cool, they added stuff to the website, but is Social Bluebook legit, and are these new tools REALLY worth the price?"

Let's dive a little deeper into each tool and I'll let you decide.

Valuation Tool

It's no secret the Valuation Tool is Social Bluebook's bread and butter. It takes the guesswork out of what to charge brands as a content creator and does all the hard calculations for you.

Social Bluebook has worked with top creators in the industry to come up with an effective formula that allows creators to find a base rate of what to charge based on key performance indicators.

These indicators take into account which platform you are on, the number of followers you have, and your engagement rate, which is a combination of how many likes, saves, shares, comments, and views your posts get.

These rates do not include things such as production cost, any expenses that may occur as a direct result of the sponsorship, or other costs outside of your platform's reach.

It's always a good idea to ask a brand what type of deliverables they are looking for and the expectation surrounding the campaign so you can calculate all costs and expenses and add it to your Social Bluebook value to pitch a more accurate rate to brands.

For more help, you can check out our LAST BLOG POST all about positioning your pricing to brands!

The valuation tool also has access to social media insights for YouTube and Instagram which makes planning and reviewing content easier as you can do it all from one website vs bouncing around to different social media platforms.

The social media insights allow you to see general statistics such as your daily subscribers and views gained, audience demographics, and the devices your audience watches your content from.

You can also take a deep dive into your content analytics and sort recent posts by comments, likes, views, and suggested shout-out rates.

You can also click on a post to go even deeper into your insights and see daily views, comments, subscriber growth, audience demographics, and suggested shout-out rate for that post to give you a better understanding of your post and audience relationship.

You can even share your post insights which make things easier when communicating with brands and negotiating future brand deals.

Media Kit Builder

Social Bluebook also gives you access to a media kit builder which you can fill out and share with brands.

The media kit builder includes an about me section to help you communicate your value as a creator and what you can do for the brand.

You can also include a snapshot of your audience to make it easier than your content matches the brand's target audience.

You can also turn your social media platform cards on and off as well as set minimum rates to better customize your media kit based on each brand sponsorship you are negotiating.

To increase your ability to land brand deals, you can showcase your best work such as pictures and links to YouTube videos so brands can see what it will be like to work with you.

Once you are done creating your media kit, you can share your link with brands, or add it to your platforms for people to view. You can also download your media kit, which is saved as a PowerPoint presentation, and email it with your brand pitch email.

Brand Deal Tracker

The brand deal tracker tool is the newest addition to the Social Bluebook family. This tool allows you to keep track of your brand deal progress from initial outreach to completion of payment.

Keeping track of your deals and brand outreach is so important as it allows you to see what was negotiated before so you can increase payments as your social media platform grows along with keeping track of contact information for brands so you know who you are talking to and can easily email them when needed.

The brand deal tracker also keeps track of affiliate links and commission information, adds platforms and deliverables, as well as uploads any notes and documents such as your sponsorship agreements, contracts, and insights sent to the brand.

Once your brand deal has reached a deal status of contract signed, you gain access to the brand deal calendar which lets you keep track of posting due dates such as review dates, go-live dates, and expected day of payment from the brand.
You also get access to the Brand Sponsorship section that allows you to view and apply to brands that are ready to work with creators right now.

You can see a full Brand Deal Tracker and Brand Deal Calendar walkthrough in THIS BLOG POST.

Social Bluebook Academy

Now if the above features and tools have not sold you on the fact that Social Bluebook is legit and definitely worth the price, I know this next section will.

Social Bluebook offers premium courses that help you in all areas of your content creator business. These courses include:

How to get more views on YouTube in 30 days
How to land brand deals that pay you more
Influencer business 101
How to become a successful live streamer in under 30 days
And our most popular course, The Brand Deal Accelerator. Each course is valued at $97, but with a Social Bluebook membership, they are absolutely free!

The best part, Social Bluebook works hard to update and add new courses so you can continue to grow your content creator business.

The Social Bluebook Discord Server

Social Bluebook is big on bringing the creator community together and that is exactly what the Discord server does.

You can join the hundreds of creators sharing their latest creations, giving tips, sharing wins, and of course, asking questions that are answered by the Social Bluebook Growth Coach Team.
The team includes creators who are experts in their fields and have experience working with brands and have contact with YouTube itself so you know the tips will always be the best!

Conclusion

So to answer your question, is Social Bluebook legit? YES!

Social Bluebook is created for creators by creators and is here to help you know and grow your worth in your creator business. For less than a dollar a day, you get access to the best tools, features, and coaches in the industry to help you out.
But don't just take my word for it, sign up for a Social Bluebook membership today and enter code '50OFF' at checkout to get 50% off your first month when you choose a monthly membership.
*Discount not available on quarterly or yearly memberships